Professional Profile: Carlos Duque 2023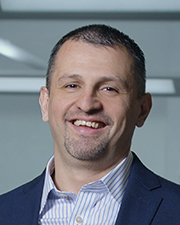 Carlos Duque
Name: Carlos Duque
Title: Vice President
Company: Outsource Consultants, Inc.
Location: New York City
Birthplace: Colombia
Education: LaGuardia Community College
First job: Field tech at Outsource Consultants
First job in real estate or allied field: Outsource Consultants, Inc.
What do you do now and what are you planning for the future? I manage the Certificate of Occupancy Department. Beginning this May, we are celebrating 30 years in business. I am looking forward to celebrating with the clients and team who have got us here and further position our services and technologies for the future.
How do you unwind from a busy day? Spending time with my family and playing golf.
One word to describe your work environment: Engaging
Favorite streaming series: "The Wire"
Favorite movie: "City of God"
Favorite book or author: Dan Brown
If you could invite one person to dinner (living or dead, but not related to you) who would it be and where would you go? Leonel Messi! Dinner anywhere.
What is your DREAM job? (NOT your current job) A pilot, so I can travel all over the world.
Rules to live by in business: Always be honest with your clients and keep learning.