Professional Profile: Brie DeChance, 2019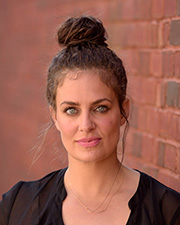 Brie DeChance
Name: Brie DeChance
Title: President
Company: Zenith Abstract
Location: 85 S. Main St., Sayville, NY
Birthplace: Smithtown, NY
Education: BA from SUNY Binghamton
First job: Scooping ice cream at McNulty's Ice Cream Parlor in Miller Place, NY
First job in real estate or allied field: Paralegal at a real estate law firm
What do you do now and what are you planning for the future? I own and operate Zenith Abstract with my amazing team. We provide commercial and residential title insurance services in NY, NJ and FL. Future plans include expansion into additional states and continuing to grow and adapt to the ever-changing climate.
How do you unwind from a busy day? I am a fitness junkie. I love to take those tough as nails classes that kick your butt. It not only de-stresses, but gives you a wonderful sense of accomplishment when you finish. I also play the violin which is basically musical therapy!
Favorite book or author: "Beneath the Scarlet Sky"
Favorite movie: "Top Gun"
Last song/album that you purchased/downloaded? Wu-Tang Clan Reunited
One word to describe your work environment: Collaborative
Rules to live by in business: My mantra that I have on my desk is "Success isn't a result of spontaneous combustion, you must set yourself on fire!"
If you could invite one person to dinner (living or dead, but not related to you) who would it be and where would you go? As cliché as it sounds… Probably Ryan Gosling to Nobu… both are delicious!
What is your dream job? I love boating and being on the water. In another life (or perhaps when I retire) I'd love to get my captain's license and have a company that provides private charter boats down in Florida and the Caribbean.