Professional Profile: Brendan Thrapp 2018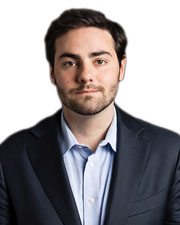 Brendan Thrapp - 2018
Name: Brendan Thrapp - 2018
Title: Senior Director, Commercial
Company: EXR Group Companies, LLC
Location: Brooklyn, NY
Birthplace: New Jersey
Education: Pennsylvania State University (B.A. Economics, B.S. Marketing).
First job: Denville Pizzeria, server.
First job in real estate or allied field: EXR Group Companies. I started my career in finance at Pzena Investment Management before making the jump to commercial real estate.
What do you do now and what are you planning for the future? I run the commercial division at EXR. My main functions are overseeing the sales program, recruiting, managing client relationships, as well as business development. Keep our heads down and keep growing.
How do you unwind from a busy day? I binge read current events – economics, finance, real estate & policy.
Favorite book or author: "Outliers" by Malcolm Gladwell
Favorite movie: "A Bronx Tale," "Usual Suspects"
Last song/album that you purchased/downloaded? "Three Little Birds" by Bob Marley
One word to describe your work environment: Eclectic.
Rules to live by in business: Focus on what you can do to improve everyday. You must always keep improving.
If you could invite one person to dinner (living or dead, but not related to you) who would it be and where would you go? Jon Gray. Peter Luger's.
What is your DREAM job? (something other than your current job): CRE. However, I would love to be a travel writer / journalist.