Professional Profile: Betsy Harbison 2021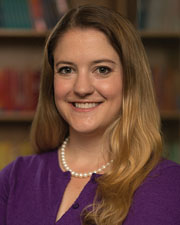 Betsy Harbison
Name: Betsy Harbison
Title: Director of Marketing
Company: Bright Power
Location: Washington, D.C.
Birthplace: Connecticut
Education: University of Pennsylvania
First job: Retail associate
First job in real estate or allied field: Office manager for a construction firm in Orlando
What do you do now and what are you planning for the future?:I have the honor of telling Bright Power's story, which includes highlighting our innovative and sustainability-minded clients' work. The future is bright as we plan to help even more real estate owners, developers, and property managers decrease their carbon emissions and create a greener future.
How do you unwind from a busy day?:Play with my toy poodle and cook with my husband
Favorite book or author: I recently finished "All We Can Save" as part of Bright Power's book club. It is a collection of essays from women in the climate movement.
Favorite movie: "The Sandlot"
Last song/album that you purchased/downloaded?:Taylor Swift's "evermore" album
One word to describe your work environment: Mission-driven
Rules to live by in business: Treat everyone with respect.
If you could invite one person to dinner (living or dead, but not related to you) who would it be and where would you go?:Anthony Bourdain. We'd re-recreate his meal with President Obama in Hanoi.
What is your DREAM job? (something other than your current job):Either a travel reviewer with a focus on luxury beach resorts or an ice cream flavor developer.