Professional Profile: Avrom Forman 2017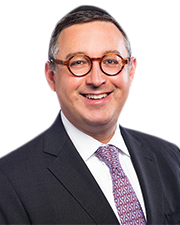 Avrom Forman - 2017
Name: Avrom Forman - 2017
Title: Director
Company: Greystone
Location: New York, NY
Birthplace: Toronto, Canada
Education: MBA York University, Toronto
First job: Manager of Internet billing at IDT Telecom
First job in real estate or allied field: Established a commercial real estate acquisition firm focused on low income properties in N.J.
What do you do now and what are you planning for the future? I originate Freddie Mac, Fannie Mae, FHA, and CMBS loans on behalf of my clients, and provide my clients with financial advisory services for their financing needs. I love what I do, so I plan on continuing on the same path for the foreseeable future.
How do you unwind from a busy day? With a glass of red wine and a quiet dinner with my wife.
Favorite movie: Its a tie:"My Cousin Vinny" and "Shawshank Redemption"
Last song/album that you purchased/downloaded? "Home" by Phillip Phillips
One word to describe your work environment: Energetic
Rules to live by in business: Honesty. It's the foundation of all other good rules which one should live their life by.