Professional Profile: Ari Benyacov 2019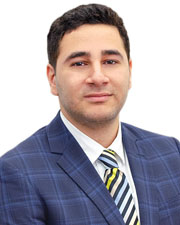 Ari Benyacov
Name: Ari Benyacov
Title: Senior Director
Company: Westbridge Realty Group
Location: New York, NY
Birthplace: Brooklyn, NY
Education: Yeshiva Derech Hatorah
First job outside of real estate: I was an outside salesmen for a commercial door and hardware company.
First job in real estate: Broker at Westbridge Realty Group
What do you do now and what are you planning for the future?:I am a director at Westbridge Realty Group. We are a New York based real estate investment sales company that focuses on multi-family and development deals across all five boroughs. My goal for the future is to own and operate as much real estate as possible and become a top investment sales broker in NYC.
How do you unwind after a busy day?:After a long, grinding day, there's nothing more relaxing to me than getting together with some of my co-workers in a local restaurant or bar for refreshment.
Favorite movie: Without a doubt, Pulp Fiction.
Last song you purchased/downloaded: All Along the Watchtower by Jimi Hendrix
One word to describe your work environment: Motivating.
Rules to live by in business: Honesty, integrity and definitely never burning any bridges. In the New York market it's very important to know all the laws, rules and regulations.
I make it a high priority to be knowledgeable in the industry.
If you could invite one person to dinner (living or dead, but not related to you) who would it be and where would you go?:I would go to Reserve Cut with Gary Barnett
and have him tell me his life story on how he became one of NYC's most prolific developers.
What is your DREAM job? (something other than your current job):I sometimes imagine myself being a world renowned Michelin star chef. Even though the most complex dish I can cook properly is a cheese omelet.