Professional Profile: April Schneider 2020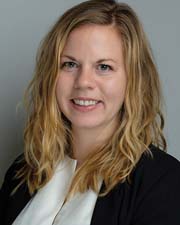 April Schneider
Name: April Schneider
Title: Associate
Company: Stantec
Location: New York, N.Y.
Birthplace: Wisconsin
Education: BS Civil Engineering, University of Wisconsin – Madison; Masters in Urban Planning and Policy, University of Illinois at Chicago
First job: Server at a gas station restaurant
First job in real estate or allied field: Project engineer at a water/wastewater engineering firm in Chicago
What do you do now and what are you planning for the future?:I work across disciplines on large-scale development projects, generally bringing the lenses of sustainability and resilience to design teams. I also lead Stantec's Envision and sustainable infrastructure practice in the US.
How do you unwind from a busy day?:Busy days rarely have time for unwinding, but after a busy week, a long bike ride does the trick.
Favorite book or author: I am always happy to pick up a book by Khaled Hosseini. I am currently reading "The Sympathizer" by Viet Thanh Nguyen and "Street Fight" by Janette Sadik-Khan.
Favorite movie: I don't watch many movies!
Last song/album that you purchased/downloaded?:I've had Jamila Woods' LEGACY! LEGACY! album on repeat lately. But I always have a new playlist on New Music Friday.
One word to describe your work environment: Dynamic
Rules to live by in business: Never burn a bridge and remember names and faces.
If you could invite one person to dinner (living or dead, but not related to you) who would it be and where would you go?:Jane Jacobs. We'd grab coffee at my local coffee shop, Nostrand Café.
What is your DREAM job? (something other than your current job):I always say Plan B is running a brewery.