Professional Profile: Anthony Gucciardo 2016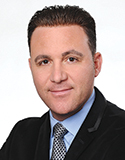 Anthony Gucciardo - 2016
Name: Anthony Gucciardo - 2016
Title: Broker / Owner
Company: Gucciardo Real Estate Group
Location: Albany, NY
Birthplace: Queens, NY
Family: Two great parents and a younger brother
College: Community College in Upstate New York
First job unrelated to your current field: Mercedes Benz and Jaguar dealer. I was a lot boy who was responsible for $2 million in luxury cars. I had to keep them looking good for prospective buyers.
First job in current field: Robert Marini Builders when I was 16. I was a host at the model house. I was responsible for checking buyers into the property and collecting their information for agents to follow up with.
What your firm does now and its plans for the future? We are the leaders in residential real estate in Upstate New York. With over 200 closed sales in 2016 and 100 more pending transactions we actively help buyers and sellers with all their real estate needs. Since starting Gucciardo Real Estate in 2012 we have sold almost 1,000 properties.
Hobbies: Luxury Cars and Travel. I currently own a Rolls Royce Ghost that I transport my clients in between closings. I live in a regular house, but I love cars. I have 9 vehicles. Jaguars are my favorite. I also love owning and renting single family homes. I currently own 10 properties in my hometown. People think you can't make money with single families but you can. My goal is 50 homes by the time I turn 40.
Favorite novel: I like the read newspapers and magazines. Not a huge book person.
Favorite film: The Bodyguard. I have always been fixated on the "character of Whitney Houston" When performing I think she was a stunning woman. In real life I might have been disappointed but I keep her character in my head. Everyone is allowed a little fantasy.
Keys to success: Hard work, dedication, and a passion for what you do is a must. Put the hours in and always do the right thing by your clients.
Person(s) you most admire (outside of family) There are so many people that I respect. I can't just name one.
If you had to choose a different profession, what would it be? If I couldn't be a Realtor in NYS, I would want to be a talk show host or news correspondent. I enjoy reporting stories etc. I am not afraid of the camera at all. It seems to come natural to me.