Professional Profile: Amy Patel 2020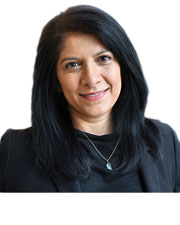 Amy Patel
Name: Amy Patel
Title: Senior Associate
Company: FXCollaborative
Location: 22 West 19th St., New York, NY
Birthplace: Ahmedabad, India
Education: New Jersey Institute of Technology (Master of Architecture); Northeastern University (MBA)
First job: My hometown movie theater
First job in real estate or allied field: Designer at Penny Yates Architect
What do you do now and what are you planning for the future? I work with a very talented, creative, and dedicated team to design and construct large-scale real estate development projects.
How do you unwind from a busy day? Yoga
Favorite book or author: Ken Follett
Favorite movie: "The Sting"
Last song/album that you purchased/downloaded? "i,i" by Bon Iver
One word to describe your work environment: Energetic
Rules to live by in business: Remain flexible
If you could invite one person to dinner (living or dead, but not related to you) who would it be and where would you go? Bob Dylan, Café Wha?
What is your DREAM job? (something other than your current job) Assistant to the regional manager