Professional Profile: Amanda Gorozdi, 2019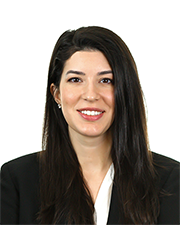 Amanda Gorozdi
Name: Amanda Gorozdi
Title: Senior Associate/Brokerage Services
Company: Avison Young
Location: Melville, NY
Birthplace: Valley Stream, NY
Education: SUNY Albany, BS in Business Administration.
First job: Management & Budget intern at Department of Environmental Protection
First job in real estate or allied field: Analyst intern at Cushman & Wakefield involving work on the development of Hudson Yards.
What do you do now and what are you planning for the future? I'm a commercial real estate broker working with tenants and landlords to achieve their leasing and sales requirements. Plans for the future include continuing to obtain superb market knowledge and delivering value to my clients. Every assignment has great potential to affect people's lives and the environment around them. This means continuous learning, analysis, and an understanding of, at least, a client's business operations, financial, and branding goals to achieve their real estate objectives.
How do you unwind from a busy day? Exercise, something crafty, or watching trending TV shows.
Favorite book or author: Dale Carnegie
Favorite movie: "Avatar"
Last song/album that you purchased/downloaded? Jazz album
One word to describe your work environment: Collaborative
Rules to live by in business: Plan. Stay focused. Be organized. Persevere. Be Confident. Honesty. Network.
If you could invite one person to dinner (living or dead, but not related to you) who would it be and where would you go? I've been wondering if Elon Musk was the real world Iron Man, so I would invite him to dinner. Dinner at his Space X office location would suffice since he's busy saving the planet.
What is your DREAM job? My job is great. When you really get to know an area inside and out along with the surrounding businesses, then you have a better understanding of the needs of that area and its ecosystem. Each assignment turns into a puzzle with many moving parts, and once you solve it, you witness how a client's business can transform an area and thrive. The clients I meet and get to work with are a pleasure, as they come from every walk of life and have such great stories. If I had to choose something else though, a professional soccer player.