Professional Profile: Alexandra Pollock 2019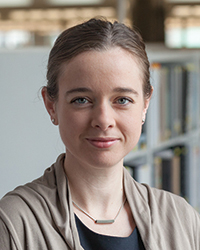 Alexandra Pollock
Name: Alexandra Pollock
Title: Principal, Chief Technology Officer
Company: FXCollaborative
Location: New York, NY
Birthplace: Frelinghuysen, NJ
Education: Master of Engineering, Stevens Institute of Technology; Bachelor of Architecture, NJIT
First job: Ticket checker at an amusement park
First job in real estate or allied field: Intern at SmithMaran Architects
What do you do now and what are you planning for the future?: In my role over the past six years as director of design technology at FXCollaborative, I led our firm's strategy and implementation of the tools and processes we use to design and deliver projects. Moving forward as CTO, that role will be expanding to include our business technologies, information technology, and data integration strategies. Along with the other talented team members of our Digital Practice Group, I am looking forward to continuing to advance how we leverage technology and data as a firm.
How do you unwind from a busy day?: Reading books with my kids
Favorite movie: Movies and documentaries that take place in another time, past or future
Last song/album that you purchased/downloaded?: Orchestra covers
One word to describe your work environment: Thoughtful
Rules to live by in business: Choosing where to create your path is just as important as the path you choose.
If you could invite one person to dinner (living or dead, but not related to you) who would it be and where would you go?: My father, in my dining room with my family
What is your DREAM job?: Travel photographer