Professional Profile: Alex Leung 2021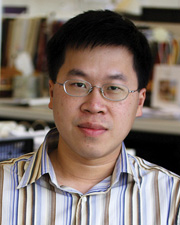 Alex Leung
Name: Alex Leung
Title: Principal
Company: FXCollaborative
Location: New York, NY
Birthplace: Hong Kong
Education: Cornell University
First job: Library page
First job in real estate or allied field: High school intern at Kaplan and Kostow Architects in New York
What do you do now and what are you planning for the future? Currently I am leading the design team for the Columbia Business School project, which is scheduled to be completed by the end of 2021. As the studio technical director at FXCollaborative, I also provide technical oversights for the office's institution and education projects. For the future, I look forward to exploring the integration of good design and sustainability into socially responsible architecture.
How do you unwind from a busy day? Biking, taking a stroll in the park, watching the sunset
Favorite book or author: "One Hundred Years of Solitude" by Gabriel Garcia Marquez
Favorite movie: "Citizen Kane"—it is a masterpiece in storytelling by a first-time director
Last song/album that you purchased/downloaded? U2's "Songs of Innocence"
One word to describe your work environment: Driven
Rules to live by in business: Establish trust through candor and integrity. Do it right or don't do it.
If you could invite one person to dinner (living or dead, but not related to you) who would it be and where would you go? Quentin Tarantino on one of his movie sets.
What is your DREAM job? (something other than your current job) Set up a painting studio and paint.