Professional Profile: Alex Kaskel 2018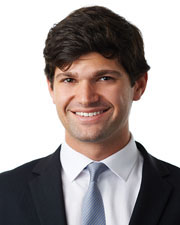 Alex Kaskel - 2018
Name: Alex Kaskel - 2018
Title: Managing Director
Company: ABS Partners Real Estate, LLC
Location: New York, NY
Birthplace: New York, NY
Education: University of Michigan
First job: Analyst at The Singer & Bassuk Organization – Andy, Scott, Jeff and Kathleen are great leaders, mentors, and very good at what they do.
First job in real estate or allied field: Summers in high school at ABS Partners Real Estate canvassing NYC.
What do you do now and what are you planning for the future?: I manage a significant portfolio of office buildings, work on exclusive tenant rep assignments, and am in search of our next big real estate acquisition. In time, I plan on syndicating and repositioning office/retail/multi-family buildings, predominantly in the NYC metro area.
How do you unwind from a busy day?: Music! The best remedy is playing music and listening to music. I play guitar.
Favorite book or author: The Fountainhead by Ayn Rand.
Favorite movie: Gladiator
Last song/album that you purchased/downloaded?: Come Tomorrow, Dave Matthews Band
One word to describe your work environment: Thoughtful
Rules to live by in business: No one is lucky. You create your own luck.
If you could invite one person to dinner (living or dead, but not related to you) who would it be and where would you go?: John Lennon, at Rao's.
What is your DREAM job? (something other than your current job): To manage and go on tour around the country with a great band.