IREON New Member Profile: Nicholas Tangredi 2021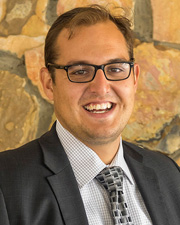 Nicholas Tangredi
Name: Nicholas Tangredi
Title: Vice President
Company: HE2PD, Inc.
Location: 10 Grand Ave., Rockville Centre, NY
Birthplace: Floral Park, NY
Education: CUNY Baruch College - Zicklin School of Business
First job: Caddie at North Hills Country Club
First job in real estate or allied field: Property Accountant
What do you do now and what are you planning for the future? Owner's representative/program manager for construction and real estate
One word to describe your work environment: Exciting
Two things on your bucket list: Play Augusta National and visit Italy
Three shows everyone should stream: Billions, Succession, Curb Your Enthusiasm
Favorite movie: Wall Street
Favorite book: Bringing Down the House
Favorite vacation destination: Hilton Head Island
Have you ever been told you look like someone famous? Who? Unfortunately, no.
If you could invite one person to dinner (living or dead, but NOT related to you) who would it be and where would you go? Warren Buffet - Smith and Wollensky - Chef's Table
Rules to live by in business: Reputation is everything, it takes years to build a good one, and seconds to ruin it.
What is your DREAM job? (NOT your current job) Professional Golfer