IREON New Member Profile: Megan Grand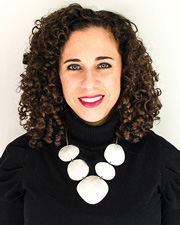 Megan Grand
Name: Megan Grand
Title: Principal
Company: Marketing Thru Graphics
Location: 110 W 40th St. Rm 1208 NY, NY 10028
Birthplace: Long Branch, NJ
LinkedIn: https://www.linkedin.com/in/megan-grand-b5843b17/
Twitter: https://twitter.com/marketingthru
Facebook: https://www.facebook.com/Marketingthrugraphics-107450080724314
Instagram: @marketingthrugraphics
Education: University of the Arts, Philadelphia PA; Bachelor of Fine Arts in Graphic Design
First job: Ice Cream Shop
First job in real estate or allied field: Senior designer at Marketing Thru Graphics
What do you do now and what are you planning for the future? I am the principal of Marketing Thru Graphics. We are a creative agency specializing in real estate marketing. I plan to grow the business further in the new year, particularly the digital marketing and social media marketing divisions.
How do you unwind from a busy day? Sing with my 3-year-old and 6-year-old daughters.
Favorite book or author: "Atlas Shrugged," Ayn Rand
Favorite movie: "The Day After Tomorrow"
Last song/album that you purchased/downloaded? I asked Alexa to shuffle songs by The Cure yesterday.
One word to describe your work environment: Exciting, never a dull moment. One day we are developing websites, the next day we are shooting drone footage or wrapping a building in graphics or coming up with edgy advertising campaigns… It is fun, every day is something new.
Rules to live by in business: Nothing is impossible. Surround yourself with a great team.Trust your team to do what they do best. Relationships are everything.
If you could invite one person to dinner (living or dead, but not related to you) who would it be and where would you go? Leonardo da Vinci; he was so ahead of his time. We would go for an aperitivo in Firenze, and discuss his thoughts on science, art and life then and now.
What is your DREAM job? (something other than your current job) I love what I do. But if I had to choose something new, I would be a psychiatrist because I am interested in how people think and what drives them. Maybe because we are constantly trying to get inside the heads of our audiences to communicate with them effectively. I minored in art therapy and found it so fascinating what you could learn from a drawing. I love the concept of utilizing art to help people.