IREON New Member Profile: Mark Damico 2022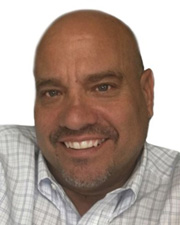 Mark Damico
Name: Mark Damico
Title: President/Owner
Company: The Workplace Group
Location: 4B Aerial Way, Syosset, NY 11791
Birthplace: Erie, PA
Education: Penn State
First job: Hagen Business Machines, Erie, PA.
First job in real estate or allied field: The Workplace Group
What do you do now and what are you planning for the future? I am building the business and helping my employees to grow. In the future I want to spend more time with my family.
One word to describe your work environment: Cooperative.
Two things on your bucket list: Scuba dive with Great Whites; live after scuba diving with Great Whites.
Favorite movie: "Goodfellas"
Favorite book: "The Stand" by Stephen King
Favorite vacation destination: Costa Rica
Have you ever been told you look like someone famous? Who? No
If you could invite one person to dinner (living or dead, but NOT related to you) who would it be and where would you go? Jacques Cousteau and dinner at my house.
Rules to live by in business: Follow the "Golden Rule"
What is your DREAM job? (NOT your current job) Fighter pilot