IREON New Member Profile: John Tancredi 2022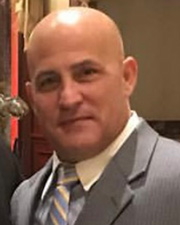 John Tancredi
Name: John Tancredi
Title: Director Business Development
Company: Kings Building Materials
Location: 10 Powerhouse Rd. Roslyn Heights, NY 11577
Birthplace: Brooklyn, NY
Birthplace: Brooklyn, NY
What do you do now and what are you planning for the future? Responsible for growing the architectural/commercial division.
One word to describe your work environment: Fast & exciting. That's two words
Two things on your bucket list: Throw out the first pitch at CitiField
Three TV shows everyone should stream: Don't watch much TV
Favorite movie: All The Rocky's
Favorite book: "The Art of War"
Favorite vacation destination: Italy
If you could invite one person to dinner (living or dead, but NOT related to you) who would it be and where would you go? Jesus Christ. Would have to take him to Rao's
Rules to live by in business: Do what others won't.