IREON New Member Profile: Joel Marcus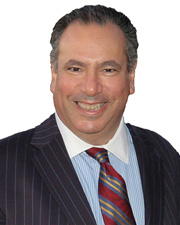 Joel Marcus
Name: Joel Marcus
Title: Senior Partner
Company: Marcus & Pollack, LLP
Location: 633 Third Ave., New York, NY
Birthplace: Brooklyn, NY
Social Media Information: LinkedIn: www.linkedin.com/in/joel-marcus-529a4314
Education: Maurice A. Deane School of Law at Hofstra University, Class of 1976; CUNY Queens College, Class of 1973
First job: Factory worker of manufacturing company
First job in real estate or allied field: Assistant Corporation Counsel, New York City Law Department, 1977-1980
What do you do now and what are you planning for the future? Currently senior partner at Marcus & Pollack, LLP., leading law firm in property tax appeals.
How do you unwind from a busy day? Take in the best of NYC's entertainment and restaurants.
Favorite movie: Miracle on 34th Street
One word to describe your work environment: Involved, intense, electrifying
Rules to live by in business: Have fun and make a profit.
What is your DREAM job? (something other than your current job) Professor