IREON New Member Profile: Jeffrey Hendler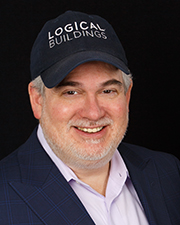 Jeffrey Hendler
Name: Jeffrey Hendler
Title: Co-Founder, President and CEO
Company: Logical Buildings
Location: 290 West Mount Pleasant Avenue, Suite 1360, Livingston, NJ 07039
Birthplace: Suffern, NY
LinkedIn: https://www.linkedin.com/in/jeff-hendler-568b4210/
Education: The Wharton School of Business, University of Pennsylvania
First job: While in college, I published "The Penn Purveyor," a directory for students that provided information about local restaurants, nightclubs, stores, & other resources.
First job in real estate or allied field: Co-founder & chief commercial officer, IDT Energy, an independent supplier of electricity and natural gas. Launched in 2004, IDT Energy went public in 2011 as Genie Energy Ltd. and currently serves multiple markets nationwide.
What do you do now and what are you planning for the future? As the CEO of Logical Buildings, my team and I will continue to expand our services to enable owners and operators of multifamily and commercial properties reduce energy costs and achieve greater sustainability. Last fall, we launched our consumer app, GridRewards and will continue to grow market share of that product in the New York Tri-State. Logical Buildings has a distinct formula for success: AMI (Automated Meter Infrastructure +IoT) = $$$, i.e., $avings; $ociety; $-Logical Buildings!
How do you unwind from a busy day? I spend quality time with family.
Favorite book or author: "The Talmud"
Favorite movie: "The Wedding Singer"
Last song/album that you purchased/downloaded? "Starting Over" by John Lennon with Yoko Ono
One word to describe your work environment: Awesome!
Rules to live by in business: Love what you do.
If you could invite one person to dinner (living or dead, but not related to you) who would it be and where would you go? Take my great great great great great grandfather out for dinner.
What is your DREAM job? (something other than your current job) I'm living it!