IREON New Member Profile: Brian Earley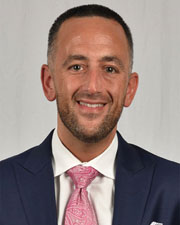 Brian Earley
Name: Brian Earley
Title: Client Account Executive
Company: Metropolis Group, Inc.
Location: 22 Cortlandt Street, 10th Floor New York, NY 10007
Birthplace: New Haven, CT
LinkedIn: https://www.linkedin.com/feed/
Education: Southern Connecticut State University – BA - Communication; University of New Haven – M.ed - Education
First job: 6th Grade Math Teacher in Hamden, CT
First job in real estate or allied field: Working with Metropolis Group in the Certificate of Occupancy Division as a project manager.
What do you do now and what are you planning for the future? Work closely on developing relationships with our clients, both existing and potential new, along with serving as a liaison between our clients and our operations. Help identify and prospect client leads and qualify new opportunities.
How do you unwind from a busy day? Most days unwind with a daily gym workout followed by dinner and family time before bed.
Favorite book or author: James Patterson
Favorite movie: "Miracle"
Last song/album that you purchased/downloaded? Country music is a favorite, currently Chris Stapleton or Luke Combs
One word to describe your work environment: Challenging
Rules to live by in business: I believe that we become what we are surrounded by. By surrounding yourself with positive mentors, driven, hardworking people, you will succeed. Additionally, never stop learning or become complacent.
If you could invite one person to dinner (living or dead, but not related to you) who would it be and where would you go? Herb Brooks in Lake Placid, New York.
What is your DREAM job? (something other than your current job) Professional golfer on the PGA Tour. Only need to shave another 36 strokes off the handicap!