IREON New Member Profile: Brendan O'Brien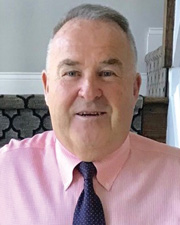 Brendan O'Brien
Name: Brendan O'Brien
Title: Strategic Account Manager
Company: United Rentals (NA)
Location: Tri-State NY Metro
Birthplace: New York, NY
Education: Cornell University
First job: Morgan Post Office, director of food and beverage
First job in real estate or allied field: United Rentals territory sales manager, The Bronx
What do you do now and what are you planning for the future? Winding down with United Rentals and will dedicate 100% of my time to deal development.
How do you unwind from a busy day? Spend time with my 9-year-old daughter.
Favorite book or author: Read mostly NYREJ, Crains and The Real Deal
Favorite movie: "Midnight Run"
Last song/album that you purchased/downloaded? That's my wife's jurisdiction
One word to describe your work environment: Organized
Rules to live by in business: Honesty, integrity and persistence
If you could invite one person to dinner (living or dead, but not related to you) who would it be and where would you go? Jesus Christ – a nice seafood restaurant on the Sea of Galilee
What is your DREAM job? (something other than your current job) Developer. I was one-time president of one of the largest non-union development companies in NYC. I had 500 laborers and craftsmen under my employ and we were doing $275 million in annual revenue. I loved it! Moving north to Windham Mountain soon and will develop on a smaller level ASAP.