IREON Member Profile: Dean Ofer 2021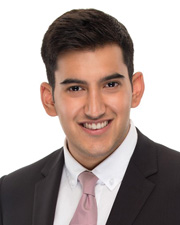 Dean Ofer
Name: Dean Ofer
Title: Senior Originator
Company: Harborview Capital Partners
Location: 335 Central Avenue Lawrence NY 11559
Birthplace: New York, NY
LinkedIn: https://www.linkedin.com/in/dean-ofer-7a7195a5/
Education: Bachelor of Arts in Economics, Binghamton University
First job: Acquisitions & asset management analyst, Time Equities Inc.
First job in real estate or allied field: Same as above.
What do you do now and what are you planning for the future? I am a senior originator for a HUD lender & mortgage brokerage, Harborview Capital Partners.
One word to describe your work environment: Warm
Two things on your bucket list: To visit the 7 wonders of the world; attend the Olympic games.
Three TV shows everyone should stream: The Marvelous Mrs. Maisel, Game of Thrones, Big Mouth.
Favorite movie: Shawshank Redemption
Favorite book: "The Bitcoin Standard"
Favorite vacation destination: United Arab Emirates and Israel.
Have you ever been told you look like someone famous? Who? Kal Penn
If you could invite one person to dinner (living or dead, but NOT related to you) who would it be and where would you go? I would take Aristotle to Estiatorio Milos.
Rules to live by in business: Be honest, fair, and business will be chasing after you.
What is your DREAM job? (NOT your current job) General manager & international scout of the New York Knicks.