IREON Member Profile: Christella Xu 2021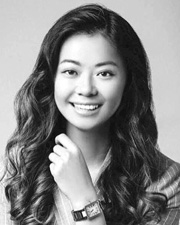 Christella Xu
Name: Christella Xu
Title: President
Company: Elite Builders and Management
Location: 600 5th Avenue, 11th Floor, New York, NY 10020
Birthplace: China
LinkedIn: https://www.linkedin.com/in/elitesbm/
Education: B.A., Fordham University
First job: Paralegal for a criminal defense law firm in lower Manhattan.
First job in real estate or allied field: Marketing associate, F&T Group
What do you do now and what are you planning for the future? I'm the owner for a steel company. I plan to be a key player in the NY steel industry in the next 12 months. Concurrently, I'm also an owner working on establishing a successful medical
marijuana business in New York State once the rules and regulations are in place.
One word to describe your work environment: Bourbon
Two things on your bucket list: Free dive with sharks; become a certified skydiver
Favorite movie: The Wolf of Wall Street
Favorite book: "Letters from a Stoic" by Seneca
Favorite vacation destination: Maldives
Have you ever been told you look like someone famous? Who? Chrissy Teigen…I know…
Rules to live by in business: Make sure you love it!
What is your DREAM job? (NOT your current job) Air Force Pilot