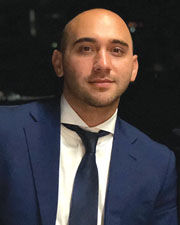 Brooklyn, NY According to Capital Property Partners, private real estate firm Ramer and Saperstein has acquired a four-story multifamily brownstone for $4.35 million in an all-cash off-market deal.
Nir Mor of Capital Property Partners was the broker for the off-market transaction.
528 Fifth St. is in Park Slope between 7th and 8th Aves. The 7,100 s/f property is comprised of eight two-bedroom apartments and was delivered with five vacancies creating an opportunity to add value.
"Our firm is constantly looking to expand our portfolio of residential and mixed use investments throughout Manhattan and prime Brooklyn neighborhoods," Mark Ramer said. "We love this location in Park Slope and immediately recognized the value add potential with the five vacancies, which fits into our investment strategy," Michael Saperstein said.
"Ramer and Saperstein were my first and only call," Mor Said. "They were able to move extremely quickly and a pleasure to work with. The deal was finalized within a couple days."
Park slope is one of the most sought after neighborhoods in the borough. The subject property is close to Prospect Park, schools, gyms, restaurants, cafes and the F and G trains. Additionally, 528 Fifth St. benefits from the protected tax class 2B.
Ramer & Saperstein is a multi- generational, privately held real estate investment firm headed by Mark Ramer and Michael Saperstein. R & S has executed in excess of $1 Billion of real estate deals over the last 40+ years.

Thanks for Reading!
You've read 1 of your 3 guest articles
Register and get instant unlimited access to all of our articles online.

Sign up is quick, easy, & FREE.
Subscription Options
Tags: