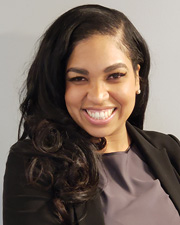 New York, NY Farrah Forbes is an IREM NYC George M. Brooker Scholarship recipient. Forbes started her career as a leasing consultant and worked her way up to managing a variety of multifamily properties throughout Westchester and Fairfield counties. Now with 15 years of experience under her belt, Farrah decided to take her career to the next level by becoming an IREM Certified Property Manager (CPM). Her goal is to earn her certification within 12 months.
Forbes applied for, and received the George M. Brooker Memorial Scholarship, which was created in memory of Brooker, a beloved late member of the chapter. Brooker worked tirelessly to further the education of real estate professionals by serving as an exemplary role model, leader and mentor. Recipients of this merit scholarship receive tuition for one IREM course required for the CPM certification
Forbes's reason for pursuing this credential is fueled by her passion to further her industry knowledge and experience. She hopes to transition her career into the NYC market and eventually into asset management. She said, "Being awarded this scholarship further inspired me, and of course it was a great help! The courses I've taken have greatly expanded my knowledge base. The IREM NYC webinars are also a great resource, offering a wealth of information that expands my skill set making me a stronger property manager each day. The chapter has been very supportive in my journey thus far for which I am most appreciative. I am excited to meet new real estate professionals in NYC and looking forward to growing my network with IREM.