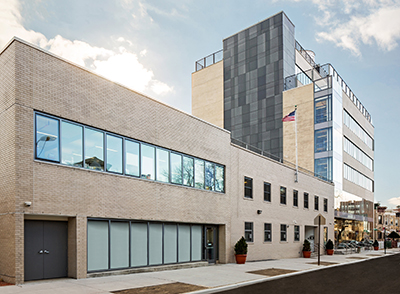 Bronx, NY MBI Group has completed a $20 million expansion for Bronx Charter School of Excellence as the construction manager and builder. The project consisted of a new seven-story tower along with renovation of an existing two-story annex to create an integrated school complex located at 1952-1960 Benedict Ave.
MBI Group provided pre-construction and construction services for the renovation and new construction project for the Bronx Charter School of Excellence, working with the school's internal executive staff and design team on schematic drawings. Collaboration and value-engineering with the design team led to the final production to get this project completed on time and within budget. The architect on the project was CTA Architects P.C. The project was designed to meet and obtain a LEED Silver certification.
"MBI Group is proud to partner with Bronx Charter School of Excellence, creating high-quality spaces for tomorrow's leaders," said Alex Getelman, executive managing director of MBI Group. "The opening of this prestigious facility was heartfelt for me, being the son of an educator and working closely with the hardworking school board and local officials. The project included building a new tower and the renovation of an existing school building, with a goal of expanding and improving the school's facilities for all students, teachers and administration. For over 30 years, MBI Group has completed successful projects for some of New York City's most prominent corporate, healthcare and educational clients."
MBI Group completed previous interior renovation projects for Bronx Charter School of Excellence.