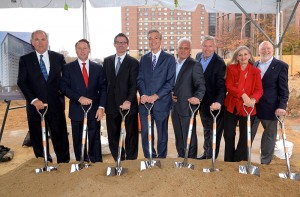 Ground breaking of 55 Bank Street - White Plains, NY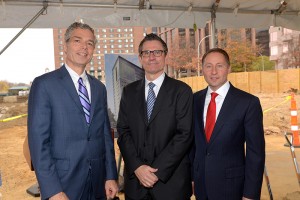 Shown (from left) are: Mayor Thomas Roach, LCOR Senior Vice President James Driscoll, and County Executive Rob Astorino.
White Plains, NY
LCOR, a fully integrated real estate company specializing in property development, investment and management, has broken ground on their latest mixed-use project, 55 Bank St. The transit-oriented development will provide the community with an impressive mix of residential and retail space. LCOR has started construction on the $250 million project. Upon completion, the 55 Bank St. development will offer a total of 760,000 s/f to the community. "The groundbreaking at 55 Bank St. serves as a pivotal moment in White Plains, as the first large-scale residential development since 2009," said James Driscoll, senior vice president of LCOR. "LCOR is dedicated to creating a dynamic mixed-use development that will invigorate the neighborhood and complement the existing structures in the area." 55 Bank St. will be developed in two phases. Phase 1 will include a 16-story, 288-unit residential building with 3,000 s/f of ground floor retail space and 381 parking spaces. Phase II will consist of a 16-story building, complete with 273 homes, 3,350 s/f of retail space and a mix of above and below ground parking, consisting of 189 parking spaces. The total 561 units will have 20% workforce designated housing. The city and the Westchester County IDA were crucial in bringing 55 Bank St. to fruition.  Created by the city, The Bank Street Redevelopment Area allowed LCOR to revitalize the northern portion of the designated area. Previously a municipal parking lot, LCOR purchased the land from the city, with the goal of repurposing the land into a flourishing development. Located in Westchester County, White Plains resides 25 miles northeast of Manhattan. 55 Bank St. is close to Mamaroneck Ave. which consists shops, dining and entertainment, adjacent to the Metro-North White Plains Railroad Station, which offers express service into Grand Central Station in Manhattan, and conveniently located near I-287, Bronx River Parkway and the Hutchinson River Parkway.