The Hudson Gateway Association of Realtors installs Barry Kramer of Westchester Choice Realty as president for 2018
White Plains, NY The Hudson Gateway Association of Realtors (HGAR) welcomes Barry Kramer, co-owner of Westchester Choice Realty, Inc. as its president for 2018. Renee Zurlo, associate broker with BHG Rand Realty in Central Valley, was re-elected as the 2018 president of the Hudson Gateway Multiple Listing Service (HGMLS). Zurlo has served as the HGMLS president for the past two years.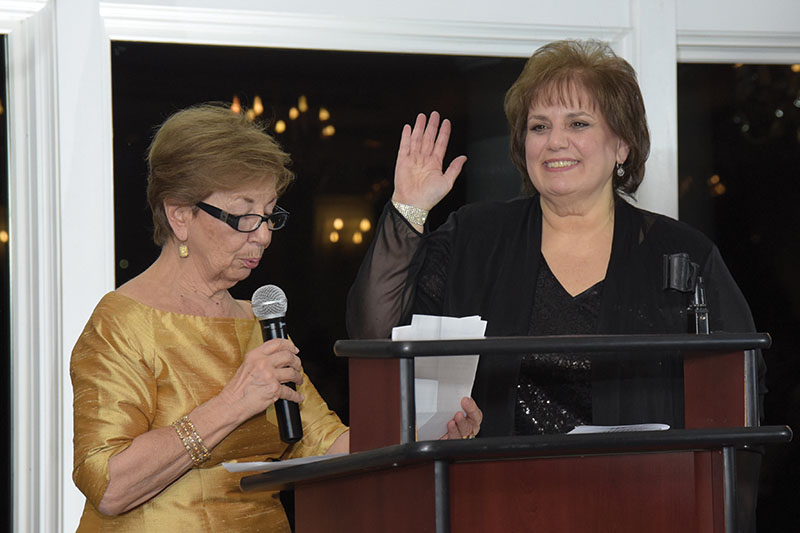 Kramer and Zurlo, along with the executive officers and directors of HGAR and HGMLS, were officially installed in their new positions at the Scarsdale Golf Club in Hartsdale on January 18th. More than 250 people from the lower Hudson Valley attended.
"I'm happy to welcome Barry Kramer as our new 2018 HGAR President and to welcome back Renee Zurlo as our returning HGMLS president," said Richard Haggerty, HGAR CEO. "I am proud to have Barry and Renee at the helms of our organizations, and we're looking forward to seeing great things from both of them this year."
Kramer has been working in real estate since 1997, when he joined an independent real estate office in Scarsdale as a salesperson. In 2008, he opened Westchester Choice Realty in Eastchester with his husband, and co-owner, John Crittenden. In 2016, they opened their second office in Hartsdale.
As an avid volunteer, Kramer has been involved in many HGAR committees, and has also served in various capacities at the New York State Association of Realtors (NYSAR). He is a board member of Westchester Residential Opportunities and the past chairman of the Westchester County Human Rights Commission. He grew up in Waterbury, CT, and earned undergraduate degrees from the University of Connecticut, plus an MBA from Iona College in New Rochelle. Kramer was also recently honored as HGAR's 2017 "Realtor of the Year."
Zurlo started her real estate career in 1994 as a licensed salesperson and soon after moved into management and training. As a regional manager for Better Homes and Gardens Rand Realty and in managing the Central Valley office, she utilizes her many years of training and coaching experience to support and lead her managers and associates. She also serves on the HGAR Professional Standards Committee and is a director for both the New York State and National Association of Realtors. Zurlo is a NYS Approved Real Estate Instructor teaching on various levels for Better Homes and Gardens Rand Realty and HGAR.
In addition to the presidents, the 2018 HGAR executive officers installed include: Ron Garafalo of John Lease Realtors in Middletown as president-elect for 2019; John Olivero of Griffith Olivero in Goshen as regional VP, Orange County; Jennifer Mallory of Keller Williams Hudson Valley in New City as regional VP, Rockland County; Myriam Ramos of Keller Williams Realty partner in Yorktown Heights as regional VP, Westchester and Putnam Counties; Clayton Livingston of Coldwell Banker in Croton-on-Hudson as regional VP, Westchester and Putnam Counties; Gail Fattizzi of Westchester Real Estate Inc. in Somers as secretary/treasurer; and Dorothy Botsoe of Dorothy Jensen Realty, Inc. in White Plains as immediate past president.
The new 2017 HGMLS executive officers include: Chirag Shah of Gateway Realty Corp. of New York in Mamaroneck as vice president: Nancy Kennedy of Houlihan Lawrence, Inc. in Croton-on-Hudson as treasurer; Jeff Farnell of John J. Lease Realtors, Inc. in Newburgh as secretary; and Leah Caro of Park Sterling Realty in Bronxville as immediate past president.
The Hudson Gateway Association of Realtors (HGAR) is a not-for-profit trade association consisting of almost 11,000 real estate professionals doing business in Westchester, Putnam, Rockland, and Orange counties as well as the Bronx and Manhattan. It is the second largest Realtors Association in New York, and one of the largest in the country. The Hudson Gateway Multiple Listing Service (HGMLS), owned by HGAR, offers some 20,000 properties in the Bronx, Westchester, Putnam, Dutchess, Rockland, Orange, Sullivan and Ulster counties. It is among the top 50 largest MLSs in the country.