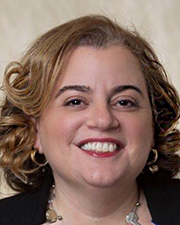 New York, NY According to Chase, Rachel Grossman joined the community development banking (CDB) group within commercial banking, as head of affordable housing secondary markets. Grossman is based in New York City, and will be dedicated to identifying additional opportunities and solutions for the financing of affordable housing.
"We're committed to supporting transformative community development projects. This year alone, our commercial real estate team has helped create and preserve over 12,000 affordable housing units," said Alice Carr, head of CDB. "With Rachel joining, we're bringing additional expertise and resources on board to address a growing shortage of affordable housing."
Grossman has 20 years of banking experience and specializes in affordable housing financing. She joins from Wells Fargo, where she served as the affordable housing screening group head. Prior to that, she was a senior vice president for the New York City Housing Development Corp. Grossman received her bachelor of arts degree in Political Science and International Studies from Yale University and her master's in Public Policy from Harvard University. She serves on the board for Settlement Housing Fund, Inc. and Crenulated Housing.
"There's an ongoing need for affordable places to live across the U.S.," said Grossman. "Chase is a leader in affordable housing financing and I'm excited to work with dedicated experts that support important industry players to help local communities thrive."
Chase's CDB group provides various financial solutions that support the growth of affordable housing and development of low and moderate income communities across the U.S, including construction and permanent loans, new markets and historic tax credit financing, letters of credit and other products to support bond financing.