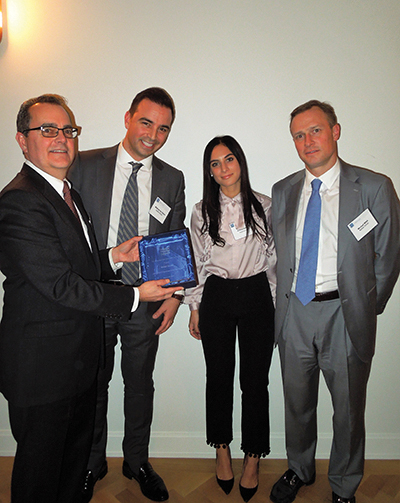 Manhattan, NY The Greater New York Construction User Council (GNYCUC) honored the Naftali Group as the 2017 Developer of the Year during its 2018 New Year's Reception, hosted in Penthouse B of Naftali Group's restored, historic residential building, The Shephard, at 275 West 10th St. in the West Village.
John Pierce, GNYCUC's chairman as well as VP of design & construction at Rockefeller Group, said, "In the past five years alone, Naftali Group completed 14 projects, including six condominiums, two ground-up multi-family developments and the completion of Pace University's dormitory, also recognized as the world's tallest college residence."
Naftali Group's executive VP of construction Michael Witek, executive VP of marketing & design Matthew Van Damm and manager of marketing & design Danielle Naftali accepted the award on behalf of founder Miki Naftali.
The evening's celebration had premier skyline views thanks to its setting in Penthouse B, which is one of three penthouses in the 12-story Shephard condo development. Originally constructed in 1896 as a warehouse, the building was converted in the 1970s to a rental building, before Naftali implemented a major overhaul following its acquisition of the property in 2014, reconfiguring it to create 38 residences.
Brand new amenity spaces include an indoor half-basketball court, a bouldering wall for climbing, a state-of-the-art private wood-paneled gym, a Pilates studio, a golf simulator, a game room featuring vintage arcade games and a custom BDDW ping-pong table, a screening room and a children's art room. Other amenities include a paneled library curated by premier book publisher Assouline and a lush private garden.
"At Naftali Group, we pride ourselves in our discipline and commitment to quality and innovation, talents that we harness as a team to achieve premier, bespoke results seen throughout properties such as The Shephard," said Witek. "This is why it's such a great honor to accept this award which commends our efforts, in this setting, on behalf of our brilliant founder Miki Naftali."
Guests at the event also toured another residence at the Shephard. 12 A is a three-bedroom, three-and-a-half-bathroom unit with exceptional views.