Future of New York CRE Three-Part Webinar Series - Sept 16
Future of New York CRE Three Part Webinar Series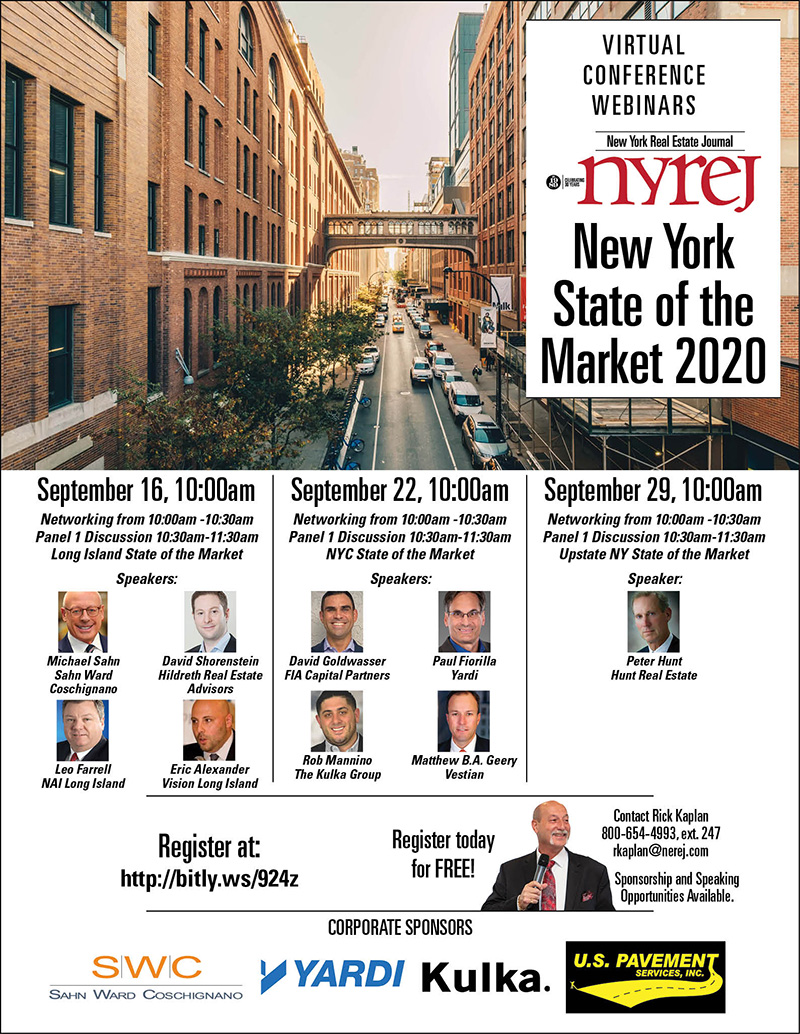 The New York Real Estate Journal is producing a three-part Webinar series on the future of commercial real estate in New York. The first panel discussion on the Long Island Market will be held on September 16, 2020 10am-11:30am. The second panel, to be held on September 22, 2020 10am-11:30am will cover the New York City Market. The third panel, scheduled for September 29, 2020, 10:00am-11:30am, will focus on Upstate New York. All the panel discussions will be designed to highlight the challenges in retail, industrial and affordable housing as well as new technologies needed to adapt to changes in the industry.
The New York Real Estate Journal would like to thank the sponsors of these summits: Yardi, Kulka, Sahn Ward Coschignano, and US Pavement.
The Long Island Market panel on September 16th will be moderated by Eric Alexander of Vision Long Island. The panel will discuss what is happening in Long Island changes, new development and adapting to the needs of the market. The panel will include:
Leo Farrell of NAI Long Island, who has been representing buyers and sellers in the Long Island market for many years with his strong team of brokers;
Michael Sahn, managing member of Sahn Ward Coschignano PLLC, specializing in real estate law and transactions, corporate, municipal and environmental law; and
David Shorenstein, Hildreth Real Estate Advisors Solutions LLC.
Register for one or all three by CLICKING HERE
For more information, to be a panelist, or event sponsor, please contact Rick Kaplan at [email protected]