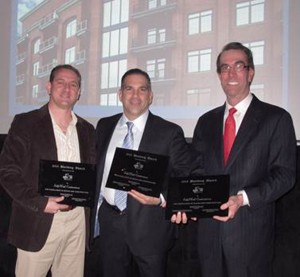 Shown (from left) are: Papa, DeVito and QBBA president, Peter Florey.
Queens, NY Bondee Properties, LLC, developer of Forty2East Condominiums in East Williamsburg, Brooklyn, with Christopher V. Papa Architects, received the 2015 Building Design award for Excellence in Design and Construction from the Queens Bronx Building Association (QBBA) at the annual Building Awards and Holiday Party on December 5th, 2015 at the Douglaston Manor in Douglaston.
Working with architect, Christopher Papa, Forty2East was built from the ground up and is a 53-unit multifamily condominium with a mixture of studios, one and two- bedroom apartments with amenities such as rear and rooftop recreation and barbeque areas, an in-house gym and a first floor lounge area. It also has underground parking, bike racks and apartment storage space.
"With Forty2East, we set out to create a building that provides a true high-end experience and offers everything one could ask for," said Thomas DeVito, president of Cristom Construction, one of three family owned businesses that comprises the Bondee Group, who was on hand to receive the award. "We greatly appreciate that the Queens Bronx Building Association chose to recognize us this year."