Manhattan, NY Lionsgate recently acquired Starz. The acquisition expanded the programming content for Lionsgate. With growth comes challenge. As the firm's business expanded, its New York office needed additional space, but Lionsgate/Starz preferred to remain at its 530 Fifth Ave. location. RXR Realty Corp., the building owner, offered them a full floor space of 34,000 s/f and Lionsgate/Starz accepted the offer.
The layout was developed by Lionsgate's California-based architectural firm. RXR selected Boddewyn Gaynor Architects (BGA) based on their prior collaborations at numerous RXR properties. BGA was tasked with marrying Lionsgate/Starz's layout requirements with RXR's new building and design standards. BGA refined the schematic layout and produced the contract documents for the $5.114 million project. They also provided construction administration services for the fast-track project with an aggressive summer occupancy.
Lionsgate/Starz's vision for the new space was to create a sense of openness and collaboration. To fulfill that vision, all offices were designed with glass fronts to share daylight with the open work areas, thus reinforcing a sense of togetherness.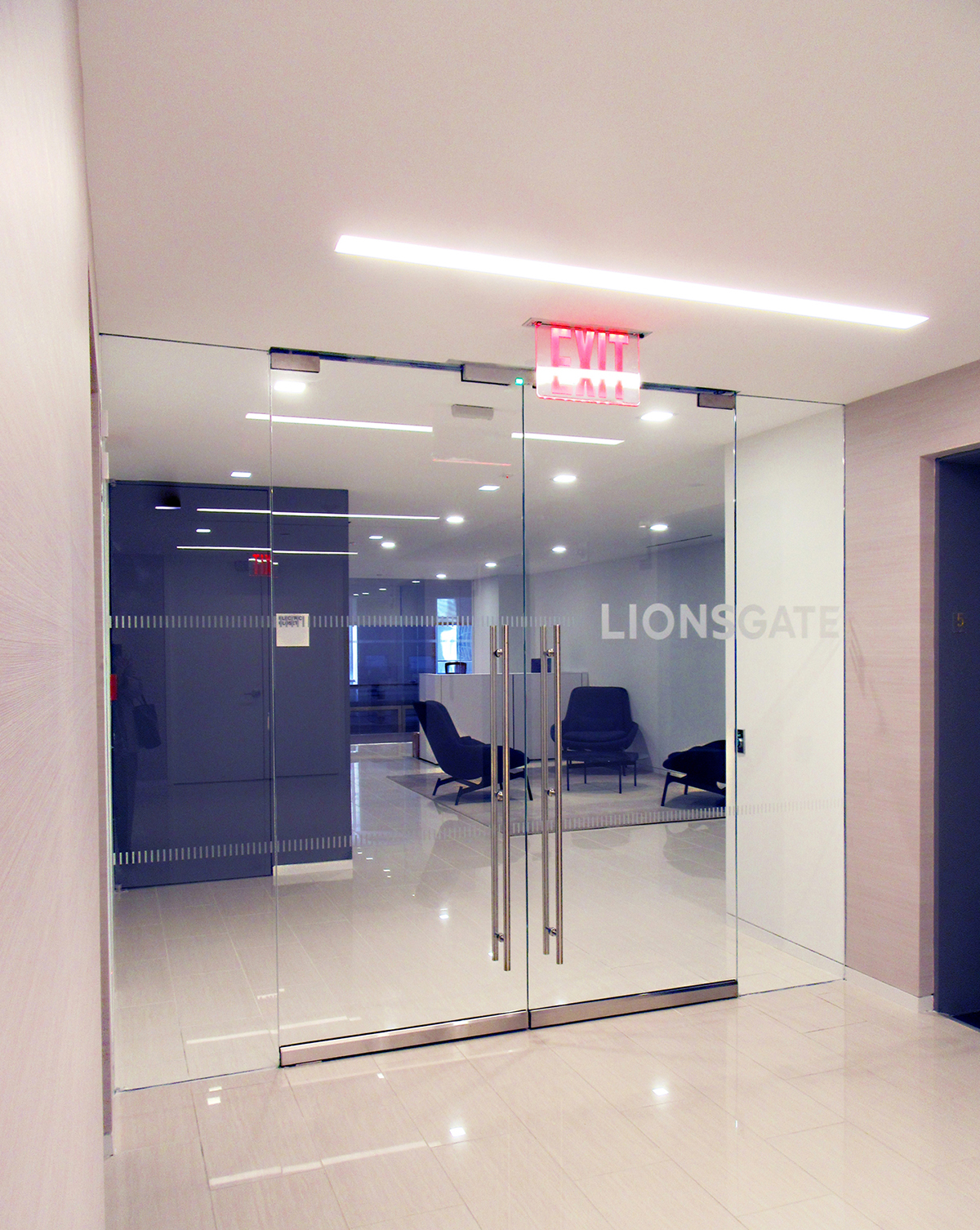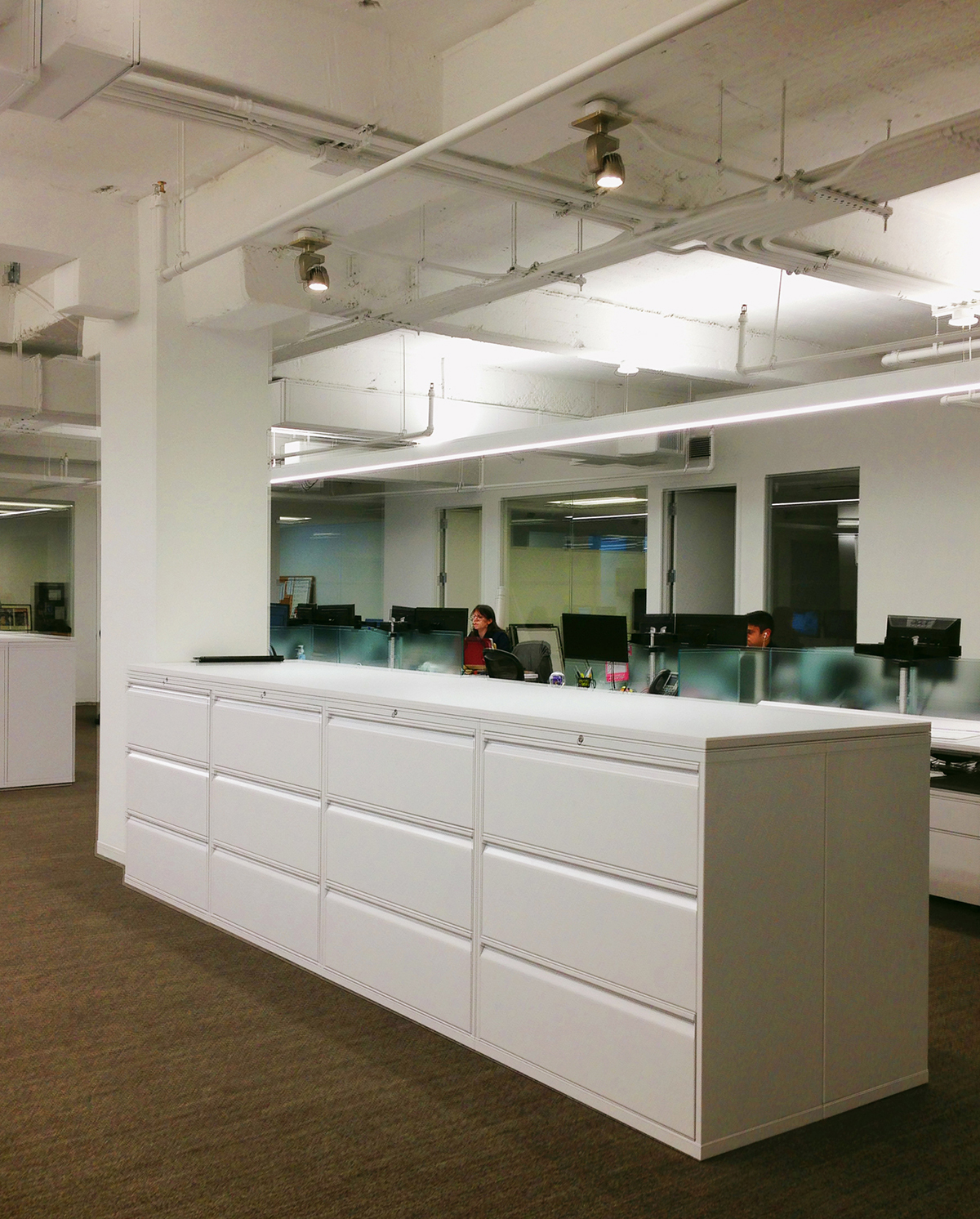 Throughout the space, a selection of deep charcoal finishes contrasted with the bright, sleek, white walls, to evoke a futuristic feel and create a sense of excitement and vibrancy. Lionsgate/Starz selected an exposed slab ceiling concept in the open work areas and corridors, to increase the sense of height. The design challenge of the exposed infrastructure was to produce a harmonious and integrated look for these mechanical systems, i.e., sprinkler, cabling, ductwork and the electrical conduit layouts. BGA worked closely with AKF Engineers to implement a MEP layout, particularly in those open work areas.
For a dramatic lighting effect in the pantry and breakout space, BGA coordinated the use of various-sized, mirror-finish pendant light fixtures, which interjected a sense of playfulness against the exposed slab ceiling.
A "Wall of Fame" outside the senior executive's office showcases images of the (2) firms' recent movie and TV productions.
At our core, BGA is a solutions-oriented firm, serving the best interests of our clients and their tenants; as we have done in this RXR/Lionsgate/Starz collaboration.
The challenges that they face spark their creativity and inspire them to develop designs that fulfill each client's unique needs. Their reputation for precision in their contract documents is a hallmark of the way we do business. BGA's attention to detail contributes directly to our clients' bottom line.
With these principles in mind, BGA designs spaces that foster achievement. We employ a hands-on approach and we, as principals, are involved in each and every project. Our team of professionals makes it a point to understand exactly how a space will be utilized. By investing the time to understand the end users' needs and by familiarizing ourselves with the space, BGA creates a design that is appealing, efficient and dynamic.
BGA is committed to the clients it serves and to the profession that represents.