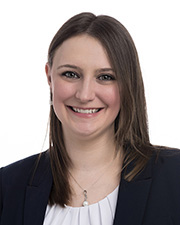 East Meadow, NY Carrie Adduci has joined the real estate practice group at Certilman Balin Adler & Hyman, LLP as an associate.
Prior to joining the firm, Adduci was a real estate associate at the office of Joseph A. Faria, P.C. in Garden City. In this position, she represented and advised purchasers, sellers, landlords and tenants in a variety of commercial and residential real estate transactions, including real property and co-operative apartments.
Adduci earned her Juris Doctor, cum laude, from St. John's University School of Law in 2012. She was managing editor of St. John's Law Review.
She was also the vice co-chair of the Public Interest Committee. She also she helped her peers to strengthen their writing skills, as a consultant in the Writing Center.
St. John's Law School awarded Ms. Adduci with a Merit Based Scholarship, the ALI-ABA Scholarship and Leadership Award, and the St. John's Gold Pro Bono Service Award. She was also on the Dean's List.
During the summer of 2011, Ms. Adduci served as a Law Clerk at the Cook County Office of the Public Guardian in Chicago, Illinois. She was designated a guardian ad litem and attorney for children involved in protective proceedings in Cook County Juvenile Court.
She earned her Bachelor of Science, summa cum laude, from St. John's University with a major in Legal Studies and a minor in Theology.
She is admitted to practice in the state of New York and is a member of the Nassau County Bar Association and the New York State Bar Association.