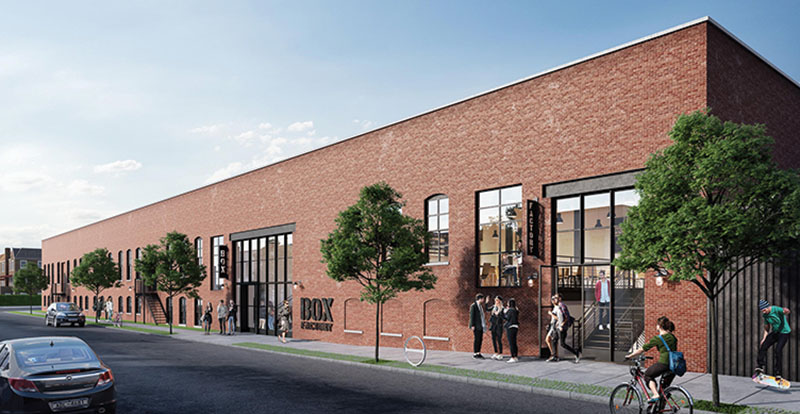 Brooklyn, NY ABS Partners Real Estate has arranged two leases totaling 17,592 s/f at the Box Factory, 1519 Decatur St.:
The first deal is a 13,832 s/f lease with music rehearsal space provider, Pirate Studios. The asking rent was $35 per s/f. Ben Waller, senior managing director at ABS, represented the tenant and the landlord in this transaction.
"We are very excited about Pirate Studios coming to the Box Factory and having them attract musicians throughout the area to the building," said Daren Hornig, managing partner at Hornig Capital Partners.
"We invited the whole neighborhood to our first open house and right away heard the need for high quality music production and practice space," said Waller. "While most commercial buildings steer clear of noise producing uses, Horning and Brickman are creating an atmosphere at the Box Factory for musicians, producers and other media creators to thrive."
In the second deal, a 10-year, 3,700 s/f lease was placed with media content producer The Hub. The asking rent was $36 per s/f. Waller and Anthony D'lorio of ABS represented the landlord in the transaction, while Jake Velazquez of Compass acted on behalf of the tenant.
"We are excited to welcome The Hub to our growing roster of creative tenants at the Box Factory," said Daniel Silvermintz, director of finance & operations at Hornig Capital. "We are committed to bringing high-quality tenants to the Box Factory and companies like The Hub and Pirate Studios represent exactly that."
"We're extremely excited that The Hub has chosen to move its operations to the Box Factory, which comes on the heels of music rehearsal space operator Pirate Studios' new lease at the property," said Waller. "With Broadway Stages up the block and several other studio buildings in the area, this neighborhood is becoming a magnet for content creators."
Owned by Hornig Capital Partners and Brickman, the property underwent a $10 million renovation and now has a new lobby, elevator, windows; common outdoor and lounge spaces for tenants; 18 ft. ceilings and bike rooms.