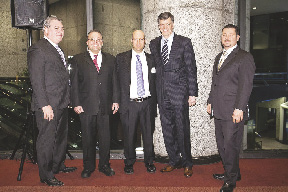 Shown (from left) are: Marc Lawrence, CEO & founder of REIN NY LLC and principal of American Land Services, Inc.; Nunzio Del Greco, CEO of BMAR; Shkury; Dansereau; and Richard Guarino, managing partner, ERG Property Advisors & 2012 BMAR president-elect.

Thanks for Reading!
You've read 3 of your 3 guest articles
Register and get instant unlimited access to all of our articles online.

Sign up is quick, easy, & FREE.
Subscription Options