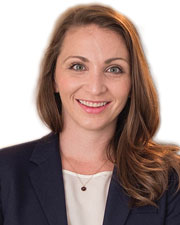 Name: Tricia Ebner
Title: Senior Associate
Company Name: MdeAS
List up to three associations or organizations that you are currently a member of:
American Institute of Architects (AIA)
NCARB
US Green Building Council (LEED AP)
What recent project or accomplishment are you most proud of?
410 Tenth Ave. (460 W 34th St.) has been the most challenging and rewarding project to date in my career. Part of the beauty of redevelopment is the ability to breathe life into structures that have been long neglected to create an operationally new building while maintaining the character of the original structure. At 410 Tenth we are in the process of creating a whole new experience of entering and occupying the building, while maintaining a historic character that stands in contrast to the surrounding glass and steel towers at Hudson Yards. It has been a true team effort of all parties involved and it is shaping up to be a product worth the long hours.
What is one characteristic that you believe every woman in business should possess?
I feel every woman in business should possess a degree of flexibility and ingenuity to problem solve and troubleshoot quickly and efficiently. Oftentimes I am in meetings where I am one of if not the only woman, and the most effective tool I have learned is to depersonalize issues that arise and to harness the strengths of the people on your team to brainstorm solutions. It is always more effective to solve an issue as a team rather than finger point and dwell on the cause of the problem at hand.