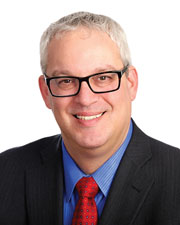 Name: Richard Feinberg
Company: Triforce Commercial Real Estate LLC
Title: NYS Real Estate Salesperson
Education: Devry University Telecommunications Management
What led you to your current profession?
I have always been drawn to real estate. I remember going to my grandparents real estate office in Nanuet NY. I would spend hours playing with the keys in the brown keyholder box on the wall and then they would take me for a ride to show me the new property that they were looking to sell. As I grew up, I entered a career in telecommunications sales. I enjoyed the sales side of it but found myself looking up and reading about real estate all of the time. I couldn't resist the urge to get in the game so I took the leap of faith. It was the best thing that I have ever done and I wish I did it 20 years ago.
What do you like most about your job?
I love working with clients and helping them fulfill their business needs for real estate properties. I pride myself as an industry specialist and I focus on providing a consultative approach to assisting each client. I use my 25 years of technology sales experience selling to C level executives to help benefit my clients throughout the process, from initial understanding of their needs all the way to the final negotiation process. I believe that if you treat each transaction as if you were the client, it leads to a successful and positive experience for everyone.