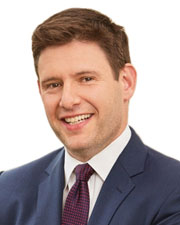 Name: Michael Cardillo
Title: Director
Company Name: Compass Commercial
Year that you entered your current field? 2016
List up to three CRE organizations that you are currently a member of: REBNY
What do you consider to be your greatest professional accomplishment in the past 12 months?
I successfully sold a development site at 118 New Jersey Ave., in East New York to a hotel developer. I was responsible for achieving the record price per buildable s/f in East NY since the MIH rezoning was approved in 2016.
What advice can you offer to someone who is interested in a career in your industry?
I still believe that PhDs are necessary for this business; "Poor, Hungry and Desperate." Self-motivation is critical to success as are tenacity and perseverance. I try and stay as focused as I can while persevering through all of the obstacles my transactions will have.
Who or what do you attribute to your success?
I am persistent and determined in seeing that every aspect of a deal is handled thoroughly. Following up is a priority for me on every deal I work on. I make it a goal to make sure every aspect of a transaction is considered and valued.
How have your life experiences impacted who you are professionally?
Losing my mother at an early age forced to me to be resilient. And in this business resilience is everything.