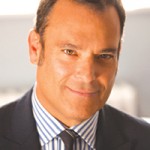 Eric Margules, Margules Properties, Inc.
What was your most notable project, deal, transaction or professional achievement in 2015?     
Margules Properties purchased 10 buildings in the Journal Square district of Jersey City, bringing our portfolio to over one million s/f of buildable rights in Journal Square, a downtown neighborhood that is being discovered by developers, retailers and residential tenants. Going forward into 2016, we plan to keep doing what we're doing. The NYC metro area will remain the leading city in the country with the world's best economy. And Jersey City will continue to integrate more closely with the New York City economy.