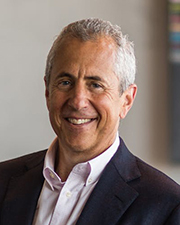 Manhattan, NY Danny Meyer's Union Square Hospitality Group (USHG) has opened its newest restaurant and bar, Manhatta, located on the 60th floor of the 28 Liberty St. building. Inspired by Walt Whitman's beloved "Manahatta" poem, the 90-seat restaurant invites guests to reflect on the landscape of NYC while enjoying New American cuisine by executive chef Jason Pfeifer. Also on the 60th floor is USHG's first-ever event space, Bay Room, which will occupy the south-facing side of the space. Together, Manhatta and Bay Room encompass 38,000 s/f and offer stunning exposures on all four façades of the building.
"We saw an opportunity to add something fresh to the dialogue when it comes to NYC's sky-high dining institutions," said Meyer. "Manhatta will be a gift to New Yorkers, providing a perspective of our city that many of us have not yet experienced. The backdrop is stunning, but we want it to feel as warm and familiar as a neighborhood restaurant. I'm incredibly proud of the thoughtful and restorative experience the Manhatta team has created in this remarkable setting."
At Manhatta, Pfeifer combines his expertise from eight years at Roman trattoria, Maialino, with the seasonal showcasing of ingredients and classical French precision honed working under Thomas Keller and Jonathan Benno at Per Se.
His years in these iconic kitchens have helped to shape the menu and culinary vision for Manhatta, where he displays his deep appreciation for all nature has to offer, paired with soulful hospitality in a sky-high setting.
Manhatta offers a three-course, prix-fixe dining room menu as well as a more casual, a la carte menu available at the bar. The prix-fixe menu features dishes such as Peekytoe Crab with poached leeks and frizzled artichokes; Veal Blanquette with wilted greens and mushrooms; Lobster Quenelles with trumpet mushrooms and chervil; and Wagyu Bavette with pommes anna and Harbison cheese. For the sweet course, guests can choose from dishes such as a Warm Date Cake with crème fraiche ice cream and whiskey sauce; Blackberries with walnut gelato and sabayon; and a Butterscotch Soufflé.
The a la carte bar menu includes dishes such as Crispy Oysters wrapped in lettuce with sauce gribiche; Croque Madame; and Scotch Snails with parsley and garlic butter.
Manhatta's bar is led by Beverage Director Matt Whitney, who most recently served as sommelier at The Modern. At Manhatta, he aims to parallel USHG's down-to-earth hospitality ethos by offering an approachable and satisfying range of wine and spirits that accommodate a variety of drinking preferences. Manhatta's cocktail menu is rooted in the classics with its signature Manhatta cocktail and other Manhattan variations, but it also offers seasonal riffs inspired by the city's history. The wine program highlights various regions of France, and in particular Burgundy, and combines a diverse mix of classic and well-known labels while introducing guests to up-and-coming producers from their favorite regions.
Created in partnership with Fosun International, Manhatta and Bay Room are designed by Woods Bagot to celebrate the cultural and industrial history of the neighborhood, while echoing the midcentury modern sensibilities of the building. 28 Liberty was originally conceived by David Rockefeller as an anchor of New York City's financial center and was acquired by Fosun in 2013. In keeping with USHG's signature hospitality, the juxtaposition of breathtaking views and a welcoming service style creates a sense of intimacy in a beautiful setting, reimagining the tradition of New York's top-floor dining institutions. Both Manhatta and Bay Room can be accessed through a dedicated ground-floor entry lobby on Liberty Street for a seamless street-to-sky guest experience.
"The design intent," said Wade Little, Woods Bagot principal and leader of the global hospitality sector, "was to create a home in the sky that feels warm and relaxed enough for casual meals and drinks, while establishing a sense of place for the jaw-dropping views. We also wanted to create an uncluttered yet rich design that honors 28 Liberty, one of the first International Style buildings in Lower Manhattan. Manhatta is an eyrie of sophisticated restraint, humble enough to allow the city itself to steal the show."
"We are pleased to welcome Danny Meyer's USHG and Manhatta to 28 Liberty," said Bo Wei, chief executive representative of Fosun International in the U.S. and Vice President of Fosun Property Holdings. "The addition of Manhatta makes 28 Liberty a destination for food and culinary enthusiasts while providing another incredible experience to Lower Manhattan."
Manhatta's 40-foot long, black walnut bar is one of the longest in the city and, with a backdrop of the island of Manhattan, creates a buzzy energy leading into the open kitchen and luminous wine wall. Beyond the kitchen is one of two serene dining areas, which feature warm woods and walnut tabletops, exposed stone, polished bronze ornamentation, and mid-century chairs. Muted and mature, Manhatta rejects glitzy gimmickry in favor of enduring materials in tones of honey, coffee, and deep aquamarine. Leather and walnut, granite and silk, brass and bronze compose the rich material palette. Deferring to the views, arc pendant lights are perforated bronze, designed to minimize reflections on the picture windows.
Manhatta and Bay Room will feature over 100 pieces of art presented in a gallery-like setting. Each piece has been thoughtfully chosen for the space as part of a larger partnership between Fosun and the Artist Pension Trust (APT), with additional works from The Fosun Foundation, JPMorgan Chase and photographer Karsten Staiger. The rotating collection will showcase a mix of works ranging from emerging local talent to established international artists.
Sharing the top floor of 28 Liberty is USHG's first private event space, Bay Room. The stunning, full-service space is available for weddings, galas, corporate gatherings, and intimate celebrations, offering food and drink by USHG's award-winning catering business, Union Square Events. Bay Room wraps around two sides of the building, making it one of the largest and highest ballrooms in the city. It is an extremely versatile space accommodating up to 400 guests seated or up to 700 standing. Chef David Brinkman and the Union Square Events team offer seasonally crafted food and drink menus customized to each party, with flexible formats, service styles, and expert beverage pairings to suit every occasion.
Manhatta is open for dinner and is located at 28 Liberty Street, Floor 60, in New York City (entrance on Liberty). Lunch service to follow. Dinner: Monday - Friday 5pm - 9:30pm, Saturday - Sunday 5pm - 10pm.