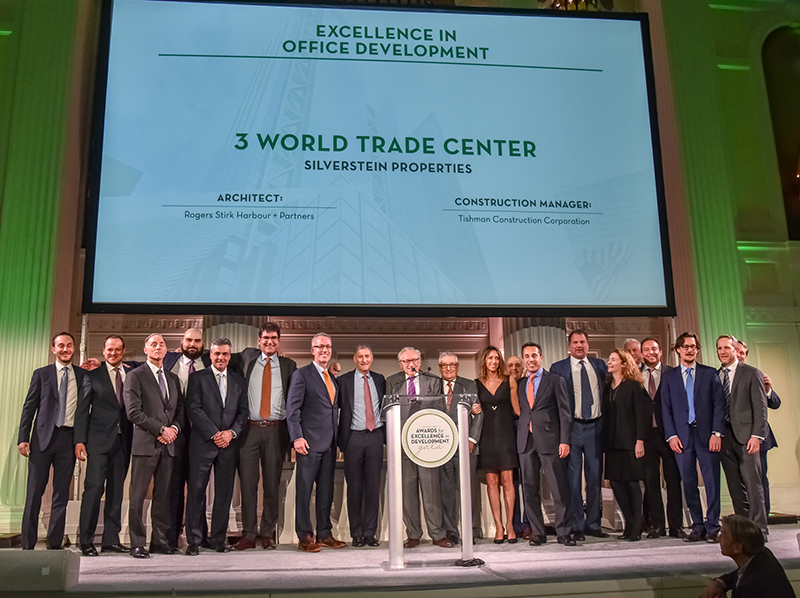 Manhattan, NY On April 4th, the Urban Land Institute New York (ULI New York) named the winners of its Annual Awards for Excellence in Development, which honors exceptional development projects that exemplify ULI New York's mission and values. Development teams receiving this award must demonstrate innovation, responsible land use, and beneficial community impact. ULI New York presented awards to nine development teams for their groundbreaking work across the city at the organization's annual gala at 583 Park Ave.
ULI New York also honored Larry Silverstein, chairman of Silverstein Properties, with the organization's first-ever Visionary Leadership in Land Use Award, recognizing Silverstein's impact in the region and industry, as well as his representation of ULI's values
The award recognizes a leader within N.Y.'s real estate community whose body of work exemplifies the mission and values of ULI, and who has had a transformational impact on the region and the industry. Individuals must also have demonstrated an enduring commitment—through civic engagement—to industry associations, causes and initiatives.
The winners included:
• Excellence in Market-Rate Housing Development: Denizen Bushwick, Brooklyn (All Year Management.)
• Excellence in Affordable Housing Development: Landing Rd., Bronx (Bowery Residents' Committee.)
• Excellence in Repositioning or Redevelopment: 70 Pine St., New York (Rose Associates and DTH Capital.)
• Excellence in Mixed-Use Development: Essex Crossing, Phase 1 (Delancey Street Associates; a JV of L+M Development Partners, Taconic Investment Partners, BFC Partners, the Prusik Group, and the Goldman Sachs Urban Investment Group. Public Sector Partner - New York City Economic Development Corp.)
• Excellence in Institutional Development: Columbia University New Manhattanville Campus - Phase 1 (Columbia University.)
• Excellence in Civic Development: WTC Cortlandt St. Station, 1 Line (MTA Capital Construction and New York City Transit.)
• Excellence in Office Development: 3 World Trade Center (Silverstein Properties.)
• Excellence in Industrial Development: Building 77, Brooklyn (Brooklyn Navy Yard Development Corp. and NYC.)
• Excellence in Hotel Development: citizenM New York Bowery Hotel (citizenM.)