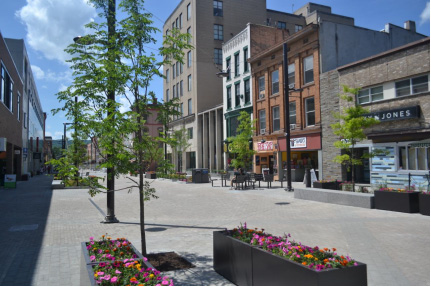 Ithaca Commons - Ithaca, NY
Ithaca, NY The downtown has a new look and feel after undergoing a $15 million revitalization. The eco-centric community gathering space celebrated its renovation this summer, but continues to grow as the new space catches the attention of commercial and residential developer attention.
Sticking true to the town's culture, the revitalized commons incorporates recycled granite, LED lighting, solar receptacles and bicycle racks. Salvaged fountain granite and locally harvested Black Locust wood are a part of a larger strategy to incorporate responsible design practices, while highlights of the rejuvenated area include patterned pavement, varied and movable seating, improved performance spaces, an outdoor reading area, and a playground.
The planning for the updated center began in 2011 when design firm Sasaki Associates was brought on to dream up a reimagined vision for the multi-functional space. The project was brought to fruition under the lead of current 28 year old mayor, Svante Myrick, who enlisted the help of Trowbridge Wolf Michaels, LaBella Associates, and HOLT Architects. Project manager Michael Kuo, known for his 9/11 memorial work, began the $15 million redesign on April 15, 2013.
The redesigned commons and surrounding downtown is home to the Moosewood Restaurant, Viva Taqueria, and the new French bistro Le Café Cent-Dix, among others. A variety of new and upcoming accommodations include the renovated historic mansion Argos Inn, a 159-room Marriott hotel, and a 123-room Hilton Canopy (the hospitality company's newest lifestyle brand) which is slated for completion in 2017.
"For the past two years it has been an honor watching the commons transition into the refreshed community hub it is today," said Myrick. "We're not done yet as $100 million worth of upcoming commercial and residential developments are still in the pipeline."
As predicted, the area's residential community is experiencing a changing tide as more graduate students move in to take advantage of the growing arts and restaurant scene. Ithaca Commons has been the catalyst to establishing the city as a true multi-faceted destination.