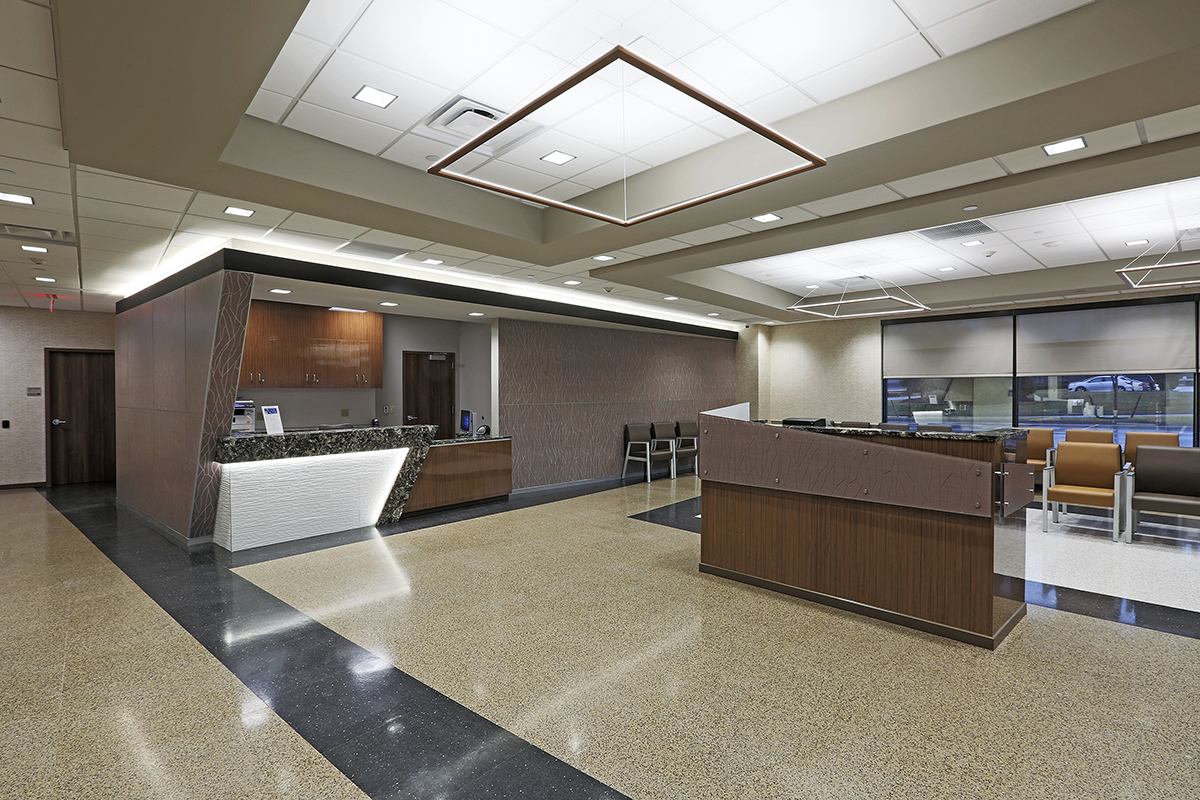 Port Jefferson Station, NY TRITEC Building Co. has completed construction of the interior spaces at the Port Jefferson Surgery Center (PJSC) located at 1500 New York-112 Building 3, Rte. 112. The $46 million project, designed by Dominick Termini, AIA, of Pallante Design, is a partnership between 19 community surgeons, Mather Hospital and Pinnacle III, a company that has developed ambulatory surgery centers nationwide. TRITEC is the developer and construction manager.
Mather's director of orthopedic surgery Michael Fracchia and partner in PJSC said the facility will run more efficiently because it won't need some of the more complex technologies that are a necessity in hospitals. A patient might need an intensive care unit or an MRI or CT scan, he said, and while these are wonderful technologies, they're also expensive and require maintenance. By eliminating these systems, the surgical centers can treat more patients at a quicker pace.
"We want to provide more care," said Brian McGinley, an orthopedic surgeon, and president of the PJAS project. "We can potentially do more while maintaining our inpatient surgery at Mather. The community will have access here, rather than having to go to Nassau County or into the city."
The 16,000 s/f Article 28, medical office interior build-out features six state-of-the-art operating suites, a pre-op and post-op recovery area, nursing stations, reception and administrative space. Construction of the interiors began in April of 2017 and completed on January 10 of 2018. Complex mechanical systems that feature a chiller unit, negative and positive air as required and a humidification system for the procedure rooms. Medical gas, vacuum, and air were installed to service the pre-op, procedure rooms, and post-op meeting all codes and requirements. TRITEC installed a generator that can supply electricity to the entire building so power outages will not affect any procedures. This facility also has a steam generator for sterilizing all of its equipment. All of the materials used were selected for their capabilities to prevent bacterial growth and ease of cleaning. The facility has a modern and clean look that is welcoming to patients.
TRITEC Real Estate Company has established itself as a leader among New York and D.C. Metro area commercial real estate companies, with more than a 30-year track record of successfully acquiring, developing, constructing, financing, leasing and managing real estate projects.