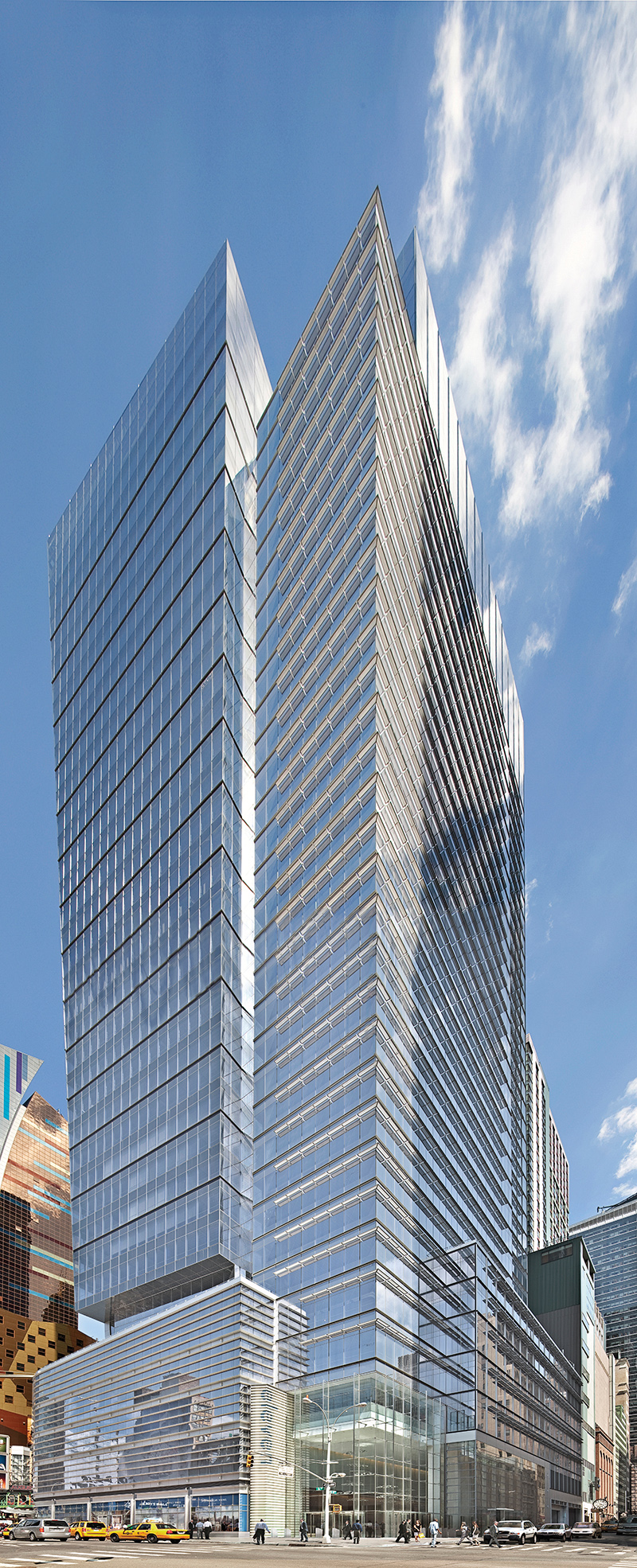 Manhattan, NY SJP Properties has signed a lease with leisure park operator Parques Reunidos to welcome "Lionsgate Entertainment City" as the anchor retail tenant at 11 Times Sq. The 1.1 million s/f LEED Gold-certified commercial tower is owned by SJP in partnership with PGIM and Norges Bank.
As one of the first indoor entertainment centers (IEC) in the city and for Parques Reunidos, "Lionsgate Entertainment City" will span 45,000 s/f across three floors that are all dedicated to entertainment. The center will benefit from 11 Times Sq.'s offering of 125 ft. of wraparound frontage at the southeast corner of 42nd St. and Eighth Ave.
"11 Times Sq. provides the ideal environment for Parques Reunidos' unique experiential retail concept, which is poised to benefit significantly from this location's unrivaled foot traffic, transit access, and proximity to world-class hotels," said Steven Pozycki, CEO of SJP Properties. "This deal is a continuation of our success attracting a diverse and complementary mix of world-class retail and commercial tenants to 11 Times Sq. that have contributed to the neighborhood's vitality."
The lease at 11 Times Sq. follows an agreement reached last November for Parques Reunidos to develop entertainment centers themed around Lionsgate, a global content leader across film and television programming. Parques Reunidos oversees dozens of entertainment locations throughout the world, including amusement parks, water parks, and zoos, visited by 20 million people each year.
The experiential center at 11 Times Sq. will bring to life some of Lionsgate's most-watched and top-grossing movies. Visitors will be immersed in interactive experiences allowing them to become the main character in their favorite movies, from "surviving" The Hunger Games, to becoming a member of one of the Divergent series factions. The center will feature over a dozen attractions that include a training course, climbing wall, a 4D flying theater, a Mad Men-themed dining and lounge experience, a John Wick: Chapter Two shooting ride, and a Nerve VR motorcycle thrill experience. Branded retail and dining establishments will include a Lionsgate Café, the Hunger Games-inspired Peeta's Bakery and The Capitol Confectionery, and the first-ever Lionsgate Studio Store.
Build-out for "Lionsgate Entertainment City" is estimated to take two years and cost $30 million. The center is planned to open in August 2019.
The RKF team of CEO Robert Futterman, executive vice president Joshua Strauss and associate Scott Zinovoy represented Parques Reunidos and SJP Properties in the transaction.
Located in a transportation hub at the intersection of Eighth Ave. and 42nd St., north of The New York Times building, 11 Times Sq. serves as the western gateway to the business corridor that has continued to attract a tenant population migrating to the West Side of the borough for two decades.
The tower featuresLEED Platinum-level indoor air quality, a glass curtain wall, and concrete core construction that protects the building's critical infrastructure and provides safety.
Proskauer and Microsoft anchor 11 Times Sq.'s office space, which is also home to an illustrious and diverse roster of tenants across the financial, technology, legal, and media industries.