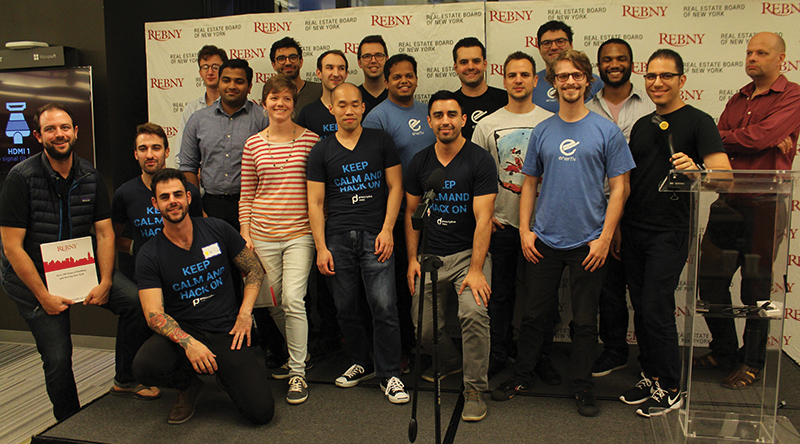 Manhattan, NY The Real Estate Board of New York (REBNY) held its first ever #REBNYTech Hackathon, hosted by its newly formed REBNYTech Committee, on Friday, October 13th through Sunday, October 15th, 2017 at the Urban Tech Hub at Grand Central Tech, 335 Madison Ave.
A total of 17 teams competed and presented proposals for new PropTech hacks at the REBNY first #REBNYTech Hackathon over three days. The event was sponsored by Real Capital Analytics, RealConnex, and Samsung Interne. Seven teams and their proposals to create cutting-edge solutions to real-world challenges faced by real estate companies across the world, were selected as the winners of their respective challenge categories:
• Architecture;
• Engineering;
• Construction and Development;
• Brokerage;
• Cybersecurity;
• Geospatial Intelligence;
• Sustainable Maintenance and Operations; and
• Open Hack.
The winning teams were awarded $2,500 each and free office space for the next three-month incubator phase to compete in the Gauntlet Challenge for a chance to win an additional $35,000 in cash and prizes sponsored by Fisher Brothers, Gust, Knotel, Newmark Knight Frank, Related Companies, Rudin Management Company, Silverstein Properties, and Vornado Realty Trust.
Speakers and mentors from Camber Creek, Core Studio at Thornton Tomasetti, DLA Piper, Lotik Labs, Prescriptive Data, Radiator Labs, Rudin Management Company, TOTEM, and Waltz; in addition to representatives from the #REBNYTech Hackathon's 29 partner organizations were among the industry leaders and innovators in attendance throughout the weekend.