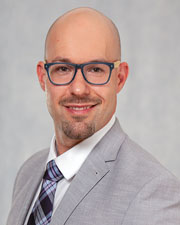 Melville, NY According to Nelson & Pope (N&P), Michael Sciara, RA, a partner in their Architectural Division, has been named one of Long Island Business News top 40 under 40 Professionals.
Sciara is an executive (and N&P's youngest partner) with over 20 years of experience in the design, planning and implementation of projects for private and public sector clients. His portfolio includes many large-scale commercial, retail, mixed-use, healthcare, educational and hospitality space.
Sciara is an alumnus of New York Institute of Technology receiving both his Bachelor and Master of Architecture degrees.
"Mike is well deserving of this award" said Eric McFerran, PE, managing partner at N&P. "Not only is he a prominent architect, but also a great leader who provides invaluable guidance to his colleagues and staff."
Sciara got his start interning at an architectural firm while still in high school. Through the years he participated in leadership and mentorship opportunities and as such has been promoted to roles that allowed him to manage projects as well as lead and inspire young professionals. During his career he has sought to improve the quality of the field, advocate for greater mentorship opportunities and give-back to the local community by participating with charitable and non-profit organizations. One organization that stands out is his teams' participation in Canstruction Long Island. Canstruction is a design/build competition that has participating teams build huge structures entirely made out of canned food which gets donated to local food banks before Thanksgiving. N&P's structure this year collected close to 5,000 cans which yielded 2,700 meals to help the feed the hungry and abolish hunger on Long Island. Sciara also sits on the board of New Ground, a local non-profit organization that seeks to end homelessness on Long Island and supports Veterans through education and job assistance training.