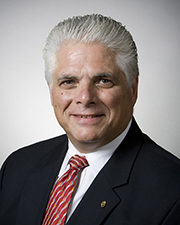 New York, NY Following distinguished careers, Mancini Duffy CEO and co-chairman Anthony Schirripa, FAIA, IIDA and president and design principal Dina Frank, AIA, IIDA, will retire.
In his 22 years with Mancini Duffy, Schirripa played pivotal roles in many of the firm's most significant projects, including AOL, KPMG, NBC Sports Group, Time Warner, Wachovia/Wells Fargo and other leading financial institutions. His commitment to expanding and diversifying the client base helped position the firm as an international design force with full-service capabilities and set up the firm's national and international alliances still in place today.
His service to clients is matched by his dedication to the profession, demonstrated by his long involvement with industry organizations. Active in the American Institute of Architects at the local, state, and national levels, he led numerous initiatives, ranging in scope from education to governance and specialty credentialing. He is currently the longest serving member of the board of the New York Building Congress and served as Vice Chair/Architecture from 2008 to 2010. One of his signature achievements was launching the Architects' Leadership Council.
With Mancini Duffy since 1994, Frank orchestrated the expansion of the practice—she opened new offices in San Francisco and Washington, D.C.—and imbued it with the highest standards of design excellence and client service. During her long and successful career, she worked extensively with law firms, and headed up such major projects as offices for Drinker Biddle; Dorsey & Whitney; Fitzpatrick, Cella, Harper & Scinto; Fried, Frank, Harris Shriver & Jacobson; Latham & Watkins; and Steptoe & Johnson. Dina also worked on large-scale corporate headquarters in the financial and publishing sectors; among her notable projects in these areas are Blackrock, Condé Nast, Donaldson Lufkin Jenerette, Goldman Sachs, JP Morgan, Prudential Asset Management, and Ziff Davis.
Going forward, the firm continues to thrive under the leadership team of president Christian Giordano, new CEO William Mandara, Scott Harrell, and Dana Jenkins, who have led the practice in recent years, with the valuable input of chairman Ted Hammer.
"Dina and Tony leave a tremendous legacy that will inspire the entire Mancini Duffy team as we move into our second century of practice and work to transform the industry through changing the way design is developed and delivered," said Christian Giordano, Mancini Duffy president. "We thank them for their contributions to the firm, and are extremely pleased they will always be a resource to us."