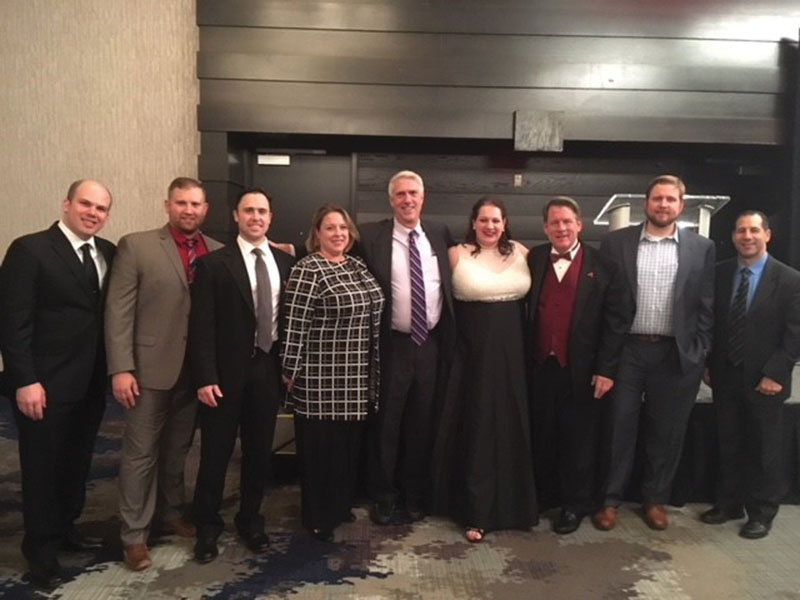 Rochester, NY The Rochester Area Chapter of the New York State Commercial Association of Realtors (RAC NYSCAR) held its 17th annual 2017 president's dinner and awards banquet at the Hyatt Regency Rochester. Almost 80 RAC NYSCAR members and guests celebrated the finest in the commercial real estate community this year.
Event sponsors were: CBRE|Rochester, CoStar Group, FSB Realty Services, Harris Beach, Passero Associates, Spectrum Business, SVN|Realty Performance Advisors and The Rose Hill Group of WNY Ltd.
Gary Passero of Passero Associates was honored with the Allan Moore Lifetime Achievement Award for his exemplary achievements, personal commitment, dedication and performance in the commercial real estate industry in the Rochester community.
The Commercial Realtor the Year award went to Terrance Bromley of FSB Realty Services, for having demonstrated excellence in the commercial real estate profession.
Joseph Rowley, Jr., and Joseph Rowley III, both of SVN|Realty Performance Advisors, received the Deal of the Year-Sale award. The Deal of the Year-Lease award went to Courtney Janto of Buckingham Properties and Jaymes Keenan of CBRE|Rochester.
Both Steve Conger from Spectrum Business and John Rynne received Meritorious Service awards. The Best New Talent award went to Alex Amorese from CBRE|Rochester. Geoffrey Cook from Taylor-The Builders was the recipient of the first-ever Affiliate of the Year award. Geoff was unable to attend, Jillian Coffey accepted on his behalf.
The RAC NYSCAR Broker membership voted in two new 2018 board directors, Kevin Bromley from FSB Realty Services, and Eric Whitlock from HUNT Commercial Real Estate. RAC NYSCAR said good bye and a big thank you to two of their long-standing board members, John Rynne, MAI, of Rynne, Murphy & Associates and Mercedes Brien of Mission Commercial Realty, LLC.
The chapter is looking forward to their forthcoming Calendar of Events for 2018, beginning with a Kick-Off on Thursday, January 18, 2018, with our keynote speaker, Rochester mayor Lovely Warren, with a special presentation by Eric Van Dusen, senior economic development specialist at the city of Rochester.
Our event location is to be announced. Guests are always welcomed to attend our events. For more information on attending any event, please email admin@rochesternyscar.com.
The Rochester Area Chapter of NYSCAR is a group of approximately 130 commercial real estate Broker and Affiliate members dedicated to promoting the interests of Commercial Real Estate professionals in the Rochester Region. The jurisdiction of the Rochester Area Chapter is the geographic area of Monroe, Wayne, Ontario, Livingston, Steuben, Yates, Seneca, and Eastern Orleans (east of Route 98) counties.