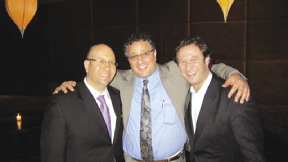 Shown (from left) are: Shimon Shkury, Ariel Property Advisors; Avi Azuolay, Hudson Valley Bank; and Stuart Bassel, Cyruli, Shanks Hart & Zizmor LLP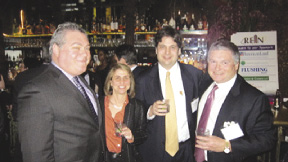 Shown (from left) are: Marc Lawrence, founder of REIN;, Lisa Segal, Citi Group; Andrew Wagner, Rosen, Livingston & Cholst LLP; and Adrian Zuckerman, Epstein, Becker & Green, P.C.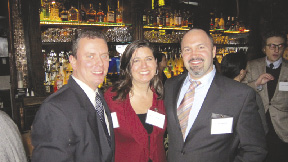 Shown (from left) are: Chris Kirigin, American Land Title; Diana Lipsig, Attorney at Law; and Eric Fleming, Corcoran Group
In six short months, Marc Lawrence and Ruanna Sakols' REIN NY, LLC has made the New York real estate community turn heads and take notice. REIN recently held its fourth event, a cocktail party at Taj II in Chelsea. The event was attended by 160 senior level real estate professionals who had the opportunity to meet some of the people who are making the biggest real estate deals today. The large turnout further indicates that the area real estate market has picked up more velocity in 2012.
Max Dobens of Prudential Douglas Elliman who was recently promoted to executive vice president and manager of the firm's Waverly Place office, said "Last night's REIN event was a great opportunity to reconnect with those industry people that I haven't seen in a while but also a great time to meet new people in the financial, legal and brokerage segments of the NY real estate industry. I even got a lead at the event, imagine that?"
Johnson Capital managing director Dan Lisser said "The REIN event on Tuesday brought together real estate professionals. I was able to see old contacts and meet a few potential new clients in a fun yet professional setting. REIN works hard at attracting a diverse group of real estate professionals and guides them to help each other, kudos to Marc Lawrence and the other founders of REIN."
The event was sponsored by American Land Title, Emerald Creek Capital, Flushing Savings Bank, Cassin & Cassin LLP and Adina Equities.
Founded in August 2011 by real estate industry veterans Marc Lawrence and Ruanna Sakols, REIN produces the real estate industry's top events, panels and conferences, all of which are attended by the most important, active and prestigious real estate dealmakers. REIN's events provide the platform to meet, learn from, and actually get to know the people who are making deals today and in the future. REIN's social events are always populated with a perfect balance of professionals in a variety of real estate fields. REIN ensures this balance because it has developed an extensive database of over 12,000 real estate professionals, and has first-hand knowledge as to the needs of these professionals and what kind of deals they are working on.